The Society's newsletter, Enfield Society News is published four times a year and sent to all members. Recent issues are available on this web-site in PDF format. Most modern browsers (like Firefox and Chrome) support this format.
Contributions in the form of articles, photographs, letters to the editor and comments on current issues within the scope of the Society are most welcome, and should be sent to newsletter@enfieldsociety.org.uk. We may not be able to publish everything and we reserve the right to shorten or modify contributions. All items will be attributed to their authors – anonymous items will not be published.
Our next issue, 219 Autumn 2020, is expected to be published on 10th August.
Latest issue: 218, Summer 2020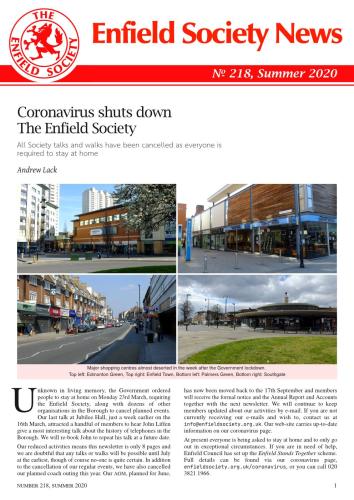 Our lead article reflects on the effect that coronavirus is having on the Enfield Society. We report the news that the Museum and Archive Service may have to leave its home in the Dugdale Centre, the Society's submission to LBE's Parks and Events Strategy, and the most recent meeting between the Society and the Council. We also meet the new Treasurer and Membership Secretary and thank the out-going volunteers.
Stephen Gilburt has contributed an article on The Fox Palmers Green and we have an item on Ghost adverts from around the Borough. Download your copy here.
Back issues