The Enfield Society promotes the conservation and enhancement of the civic and natural environments of the London Borough of Enfield and its immediate surrounding area, for the public benefit. We were established in 1936.
Joining the Society costs as little as £5 per person per year. Our morning and evening talks are free to members and we welcome non-members for £1 each. Members also receive four colour newsletters per year.  In normal times we organise an extensive range of guided walks which are usually accessible using public transport. Again, these are free to members, but we welcome non-members who wish to come and try before deciding to join. And by joining the Society you help support our valuable work within the borough.
Charity School Edmonton: Options Appraisal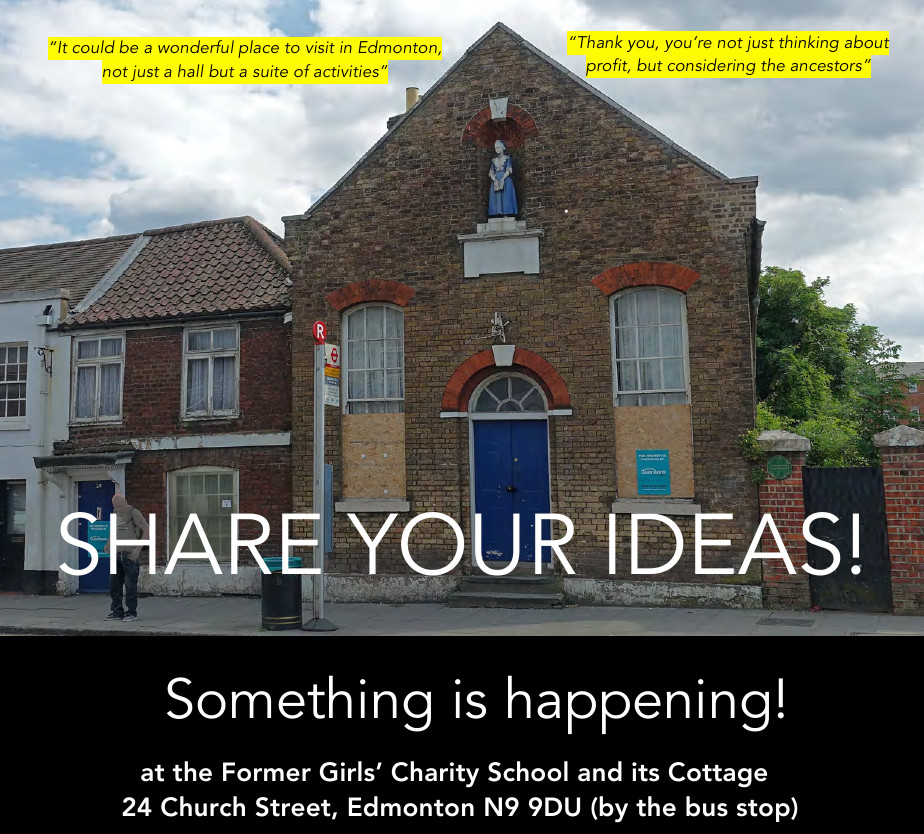 What do you want to see happen with this important 18th century building? Now's your chance. . .
Museum and Archive Service: what future?
Despite repeated requests by local organisations, Enfield Council are still unable to say what the plan is for the Museum and Archive Service currently housed on the 1st floor of the Dugdale Centre.
The Enfield Society has now sent a letter to the Leader asking to see the plans for this service. The letter has also been sent to all Councillors, the Chief Exec and the Director of Property.
The Enfield Society is calling on members and the public to write to LBE and add your voice to ours.
Jubilee Hall Evening Meetings Organiser
This position is still vacant and without a volunteer we will be unable to offer evening talks next year. This is not an onerous task and the present volunteer, Stephen Gilburt, would be pleased to share his list of the speakers he has used. Contact us for more information.