The Enfield Society promotes the conservation and enhancement of the civic and natural environments of the London Borough of Enfield and its immediate surrounding area, for the public benefit. We were established in 1936.
Joining the Society costs as little as £5 per person per year. Members receive four colour newsletters per year and you can keep in-touch with our work through our monthly news e-mails. In normal times we organise an extensive range of guided walks which are usually accessible using public transport. These are free to members, but we welcome non-members who wish to come and try before deciding to join. We have an extensive range of publications for sale which can be ordered through our online store. By joining the Society you will help support our valuable work within the Borough.
Enfield's new local plan proposes Green Belt development
As presaged in our last paper newsletter (page 1), the Local Plan includes twenty eight Green Belt sites with the potential for up to 30,000 homes, to be build between now and 2039 when the plan ends. The Society is opposed to building on the Green Belt and produced a comprehensive alternative plan [see Space to Build] showing how existing brown-field and under used sites in the Borough could be used for substantial housing volumes (up to 37,000 homes).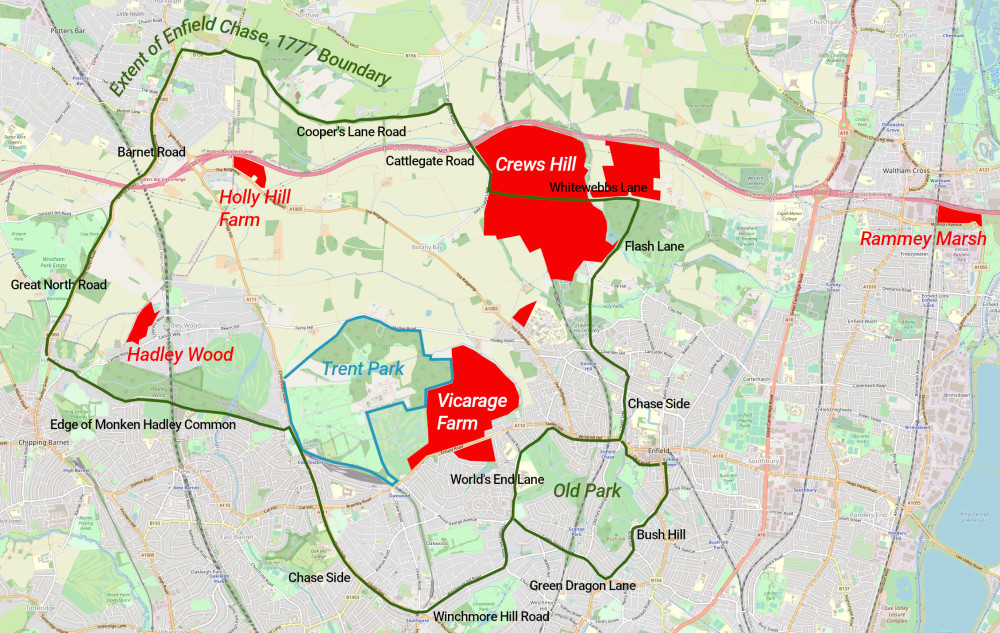 Big Green Festival, 18–26 September
Enfield Climate Action Forum (EnCaf) is supporting the national Climate Coalition's nationwide Festival to highlight the climate emergency we are in and put further pressure on world leaders to act. Look out for activities happening across the borough from the 18th to the 26th September.
​More than 60 groups in the Borough have expressed an interest in being involved in a local festival for Enfield, and are keen to come together to try and make a difference. There will be activities on and offline and all of the necessary COVID safety precautions will be taken
The Enfield Society is taking part by organising a walk along the London Loop on Saturday 18th September. The walk starts at Chase Farm and ends at Trent Park. There will be an opportunity to learn about the plans to re-establish Enfield Chase by planting thousands of trees along to route.
See here for a full list of events in the Festival.
New Godfrey Maps available
We are now stocking five new 1930's maps of areas around Enfield:
Enfield (Forty Hill & Clay Hill) 1935
Enfield Chase 1936
Enfield (South) 1935
Palmers Green 1936
Winchmore Hill 1936
Each is priced at £3.00 (plus postage) and are available from the online store.