On 8th June LBE councillors voted to approve a first-stage consultation despite strong objections from opposition councillors representing most of the Council wards that would be most affected by the proposals.
The full draft Local Plan can be found on the Council's website. Health warning: this is a big download (15MB and 413 pages) or use our links below to selected extracts.
See Also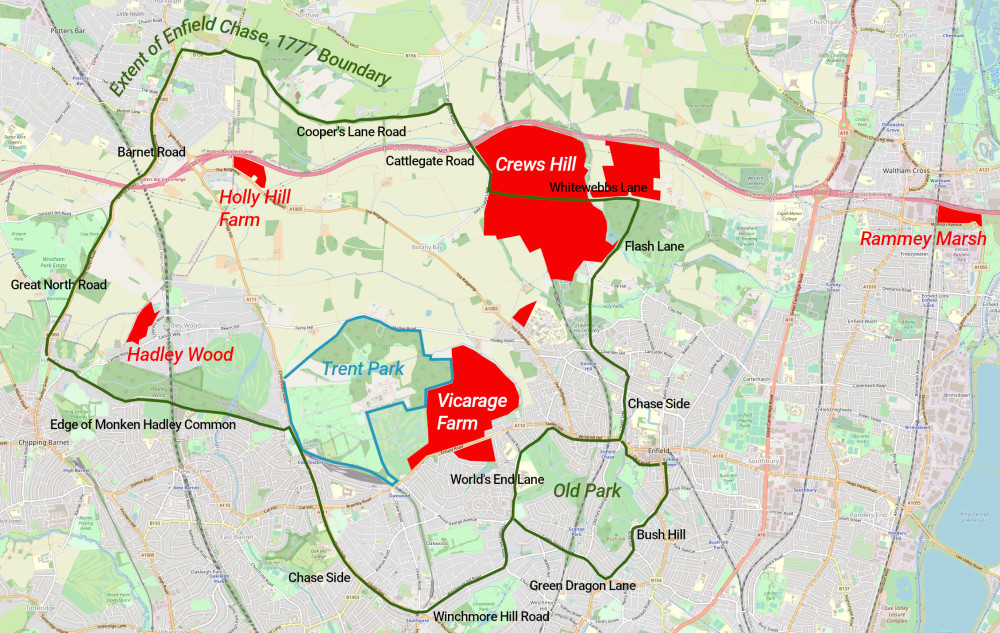 Summary of the controversial proposals
There is a full list of housing development sites within Policy SP H1 on pages 183-185 (section 8.1). In total over 30,000 homes are planned for by 2039. This equates to around 1,500 homes per year over 20 years, but only 429 have been completed since 2019 (Table 8.2, page 186).
Much of this development is proposed for open Green Belt countryside within the area of the historically important Enfield Chase. The Society has created a webpage with background information about Enfield Chase which we think the Council should have taken on board before it put forward any proposals for development in these areas.
Tall buildings
There has been much debate about this since the narrow approval of Colosseum Retail Park and the refusal of Southgate Office Village. The draft Local Plan contains proposals to increase building heights across the borough and the relevant policy is DE6: Tall Buildings (pages 156-159).
'Appropriate locations' for tall buildings are shown in figure 7.4. This shows the maximum building heights based on an allowance of 3m per floor. The storey heights for each of the locations shown on the plan are provided in the table below. For comparison, the current Enfield Civic Centre is 13 storeys. The London Plan defines a 'tall building' as anything over 21 metres.
| | |
| --- | --- |
| Height | 'Appropriate locations' |
| 26 storeys (78m) | Meridian Water |
| 23 storeys (69m) | Edmonton Green |
| 17 storeys (51m) | Enfield Town station |
| 16 storeys (48m) | Southbury station, Silver Street, Brimsdown |
| 15 storeys (45m) | Cockfosters station |
| 13 storeys (39m) | Palace Gardens Enfield, Southgate Circus |
| 11 storeys (33m) | Enfield Chase station, Palmers Green, Oakwood station |
| 9 storeys (27m) | Arnos Grove |
According to paragraph 7.6.2 of the draft Local Plan, "this is based on a rigorous assessment of townscape, character, and the sustainability of the location for higher density development."
If you wish to comment on these building heights, we suggest that you respond to the consultation and cite draft Policy DE6: Tall Buildings. See below for more information on how to respond.
How to respond to the consultation
The Council has provided three ways to respond: by email to localplan@enfield.gov.uk, by post, or via a web survey form at the separate 'Let's Talk' webpage. This latter involves a 'bespoke consultation platform' but in reality it just hosts a survey that includes the same 72 questions as in the draft Local Plan document itself (albeit with different numbers). This is unnecessarily complicated and responses do not need to complete the survey.
The easiest way to respond to the consultation is to email localplan@enfield.gov.uk with the words 'draft Local Plan' in the title. If you wish to object to a particular part of the Plan, it is important that you state which specific part of the Plan you object to and why. You should cite the relevant paragraph, page, and figure numbers, and where possible the policy references. To help you we have included the references in the bullet point list above.
It is also important that you include your name and full postal address in any response. LBE has in the past dis-regarded respondants who have failed to provide this.
What happens after the consultation?
This consultation is known as 'Regulation 18'. There will be a 'Regulation 19' consultation next year followed by an 'Examination in Public'. The process of preparing a Local Plan is lengthy but concerned residents should engage with the system at every available opportunity to have their voices heard.
The 2018/2019 Consultation
You may recall the Council running a consultation in early 2019 (see newsletter 213, Spring 2019, page 1) which looked at "Issues and Options" for the Local Plan. That consultation included brief mention of a possible development of Crews Hill, but no mention of extensive development of Vicarage Farm (Chase Park) or other Green Belt proposals. Now, well over two years after that consultation closed, the Council has published a 'Consultation Statement' containing a summary of the issues raised during that consultation. It is stated within the document that only 1,712 responses were received. However, the Council has declined to publish the actual responses received.