This article by Stephen Gilburt was originally published in two parts in the Enfield Society newsletters 198 (Summer 2015) and 199 (Autumn 2015).
By the late 16th century there were several groups of cottages in Forty Hill, which was then known as Forty Green. Elsyng Hall, which lay between Forty Hall and Turkey Brook, was originally timber framed, but was rebuilt in brick in 1487. Sir Thomas Lovell, chancellor to Henry VII and Henry VIII, lived at Elsyng between 1508 and 1524. He is commemorated in St. Andrew's parish church with his wing badge in the clerestory and a stained glass window in the south aisle. (See TES news no.189). Henry VIII made Elsyng a royal palace in 1539 and Edward VI and Elizabeth both stayed there. It was demolished after 1656. For information on Forty Hall, built between 1629 and 1633, see TES news no.173.
The Forty Hill conservation area was established in 1968 and extended in 1987. It runs north from Gough Park, along Forty Hill and Bulls Cross to Capel Manor and includes many listed historic buildings.
Forty Hill may be reached by buses 191 and W10 to the Clay Hill roundabout. (Bus W10 does not operate on Sundays.)
For more information on Forty Hill, see David Pam's and Monica Smith's volumes of A history of Enfield; Graham Dalling's Enfield past and The Enfield book; Gary Boudier's A-Z of Enfield pubs, part 1; Alan Dumayne's Britain in old photographs: the London Borough of Enfield; Treasures of Enfield: discovering the buildings of a London Borough and Heritage walks in the London Borough of Enfield. These may all be consulted at the Enfield Local Studies Centre and Archive, which also provided some of the illustrations used.
(left image courtesy Enfield Local Studies & Archive)


image courtesy of Frank Bayford
Illustrations 1, 2 3:
Gough Park was the residence of the antiquarian Richard Gough (1735-1809). The view of the front of the house dates from the mid 19th century, when it was owned by Rees Price. The section of the New River in the foreground, which ran under Forty Hill at the junction with Clay Hill and Baker Street, was abandoned when the present shorter route was constructed between Turkey Street and Tenniswood Road around 1859. In 1899 Gough Park was demolished and only the fine 18th century wrought iron gate and railings and brick walls survive in situ. One of the two lead boars, on top of the brick pillars flanking the iron gate, was transferred to Myddelton House, but was stolen in 1993. Two life-size lead ostriches made in 1724 are shown on the roof in the rear view of Gough Park. They can now be seen in the Myddelton House visitor centre (see
TES news no. 183
).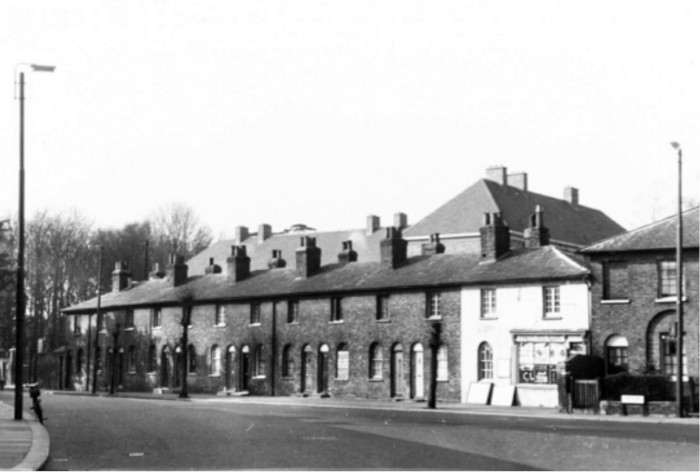 Enfield Society Collection
Illustration 4:
This 1960 photograph shows a row of early 19th century cottages, one of which has been converted into a shop, shortly before they were demolished. A recently erected block of single person council flats can be seen behind the cottages. The replacements for these flats will be nine "climate energy" homes to be built by the Council.
Illustration 5:
These four yellow brick artisans dwellings in Cottage Place were built in 1833.
Illustrtation 6:
The fine red brick Hermitage of 1704 has dormer windows in the steep hipped roof. The house incorporates an early 17th century timber framed building at the back. The interior contains original panelling. To the left is a weatherboarded timber framed stable building.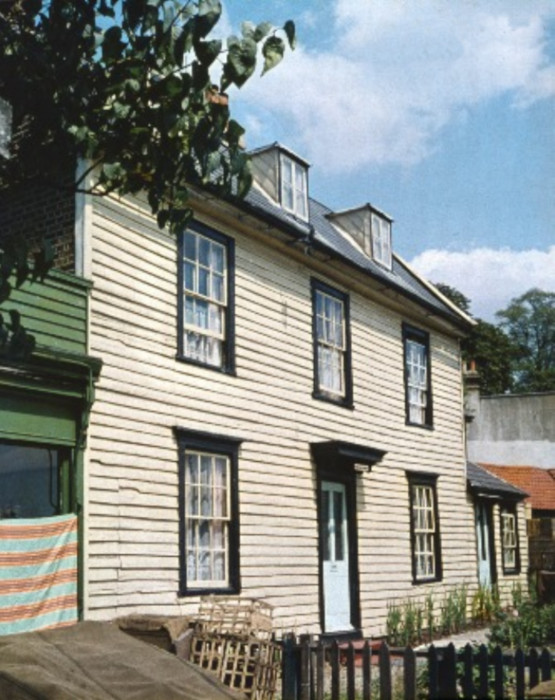 Enfield Society Collection
Illustration 7:
This 1959 photograph shows the weatherboarded timber framed Old Bakery, which was demolished in 1968 despite local protests.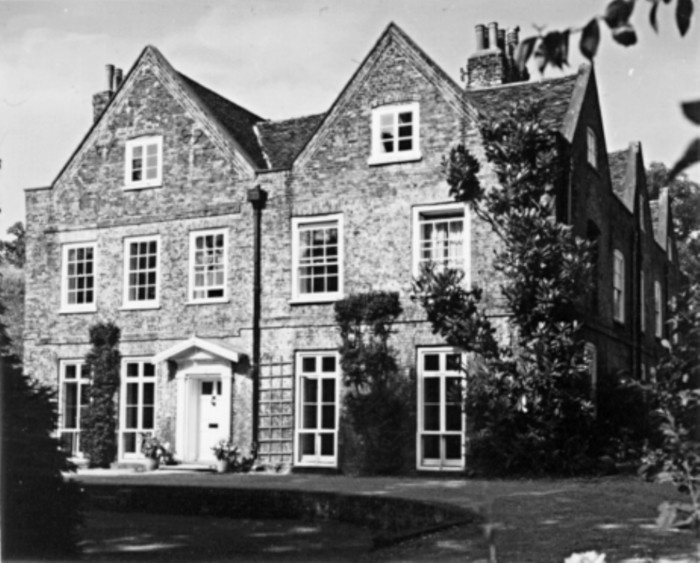 Enfield Society Collection
Illustration 8:
The early to mid 17th century Dower House was part of the Forty Hall estate until 1787 and was known as The Gables until the early 20th century. The 18th century east front has two gables with casement windows, sash windows with glazing bars on the first floor and early 19th century long casement windows on the ground floor. The rear of the building is now the separate Atherton House.
Illustration 9:
The Goat public house was built in a mock-Tudor style in 1929 by A. E. Sewell for Truman Hanbury, over the site of a pond. The decorated chimneys were inspired by those at Hampton Court Palace. This 1990 view shows the Goat before it was converted into the residential Chimneys Lodge with a new annexe in a similar style.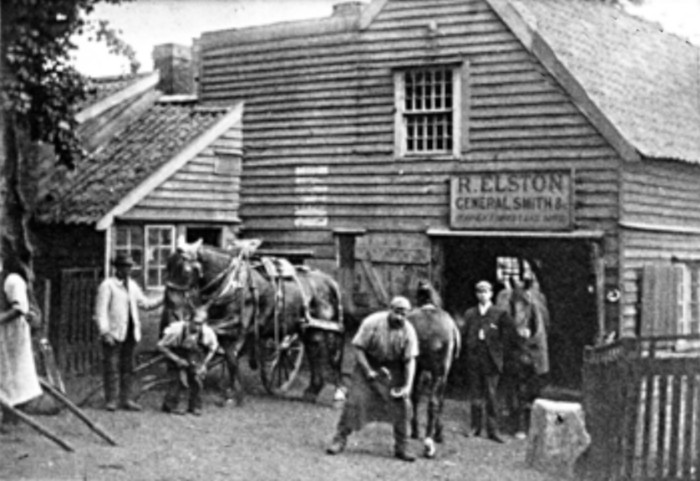 Enfield Society Collection
Illustration 10:
Near where the Goat was built there had been a forge in the 19th century. This historic photograph shows horses being shod.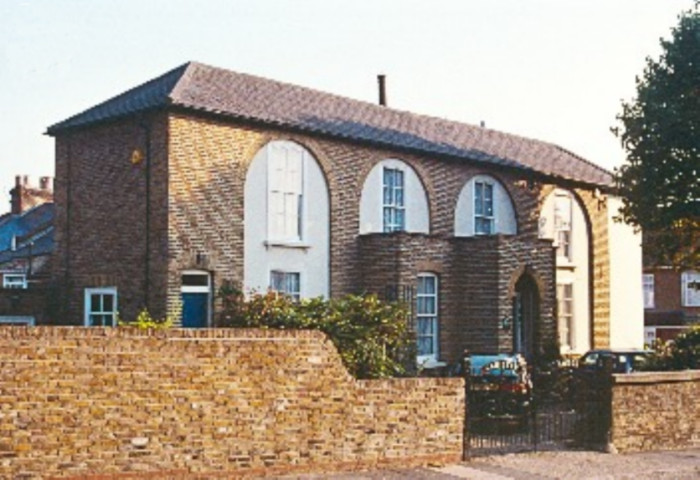 Illustration 11:
The late 18th century Canister Lodge has four arches and a later porch. It takes its name from its supposed resemblance to a tea canister.
Illustration 12:
The 1704 five-bay two-storey red brick Worcester Lodge has three dormer windows in the tiled roof. The 18th century style sash windows with glazing bars are replacements installed when the house was restored to its original appearance. The doorway is topped with a pediment.

Picture courtesy of Enfield Local Studies & Archive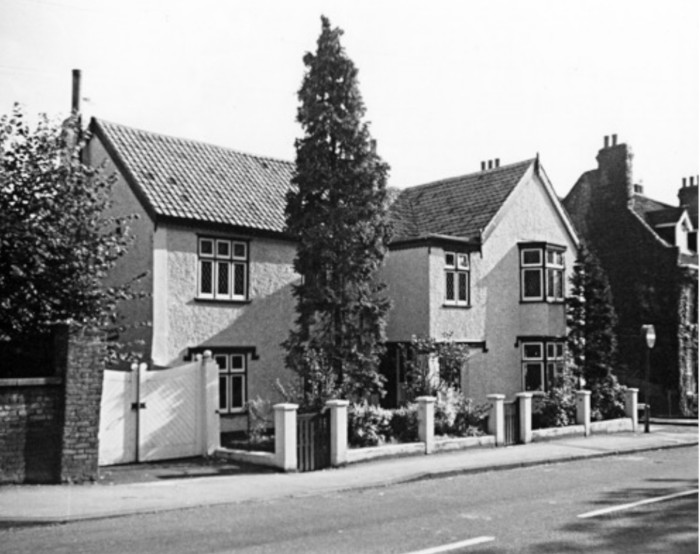 Enfield Society Collection
Illustrations 13, 14:
The 17th century former thatched and weatherboarded old Goat is first recorded as an inn in 1721 and included stables and a yard. Staff and customers are shown outside the inn around 1900. It was converted into Goat House after the new Goat was opened in 1929.
Illustrations 15, 16:
The early 19th century three storey yellow brick Forty Hill House has a fine pedimented porch with fluted Doric columns. It has been converted into flats.
Illustrations 17, 18:
Longbourn was built in 1720 as a farmhouse. A stucco facade and the north wing were added in about 1800. The south wing, porch with Ionic columns and pediment are Victorian. The view of the garden front dates from 1918 when the house was known as The Elms.
Illustration 19:
Elsynge House is early 18th century, with Elsynge Cottage being added on the left in the late 18th century. The first floor windows are lunettes, while those on the ground floor are Venetian with Doric pilasters. Elsynge House was once the home of Cuthbert Whitaker, author of a history of Enfield (1911).
Illustration 20:
The 19th century Clock House Nursery Cottage has attractive latticed windows and decorated barge boards. The porch and extension are modern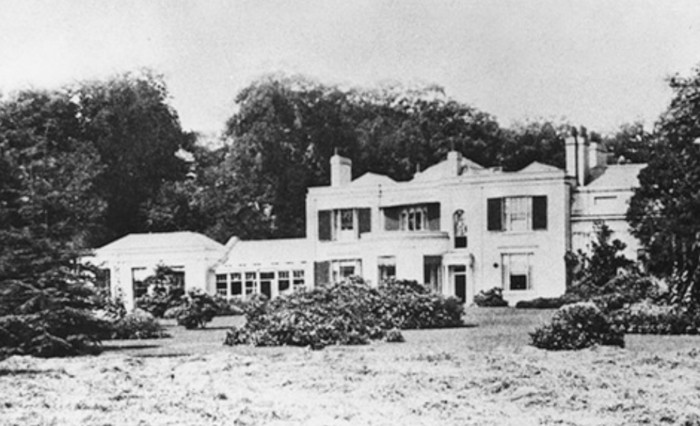 Enfield Local Studies & Archive


Enfield Local Studies & Archive

Illustrations 21, 22, 23:
The three-storey stuccoed 19th century Clock House at the top of Forty Hill is now divided into flats. The 1860s view of the garden front shows the original size of the house before a third storey and two rounded bays with tall windows were added.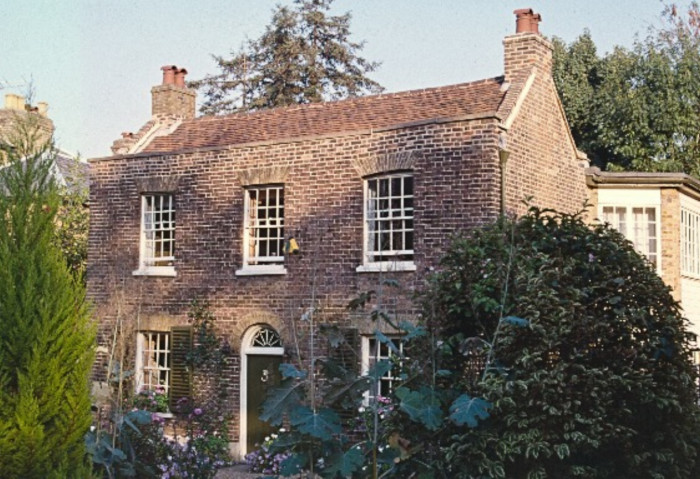 Illustration 24:
The late 18th century red brick Waltham Cottage was restored in the 20th century and a modern extension was added.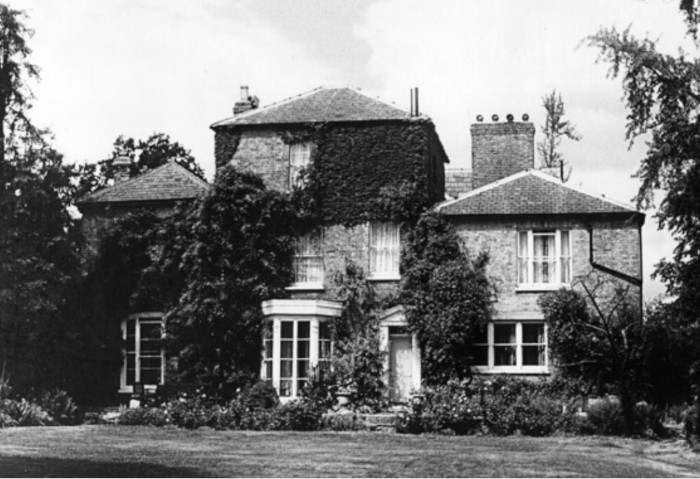 Enfield Society Collection
Illustration 25:
The two-storey 18th century Sparrow Hall was originally a timber farmhouse to which a red brick facade was added in 1802. Between 1835 and 1963 it served as Jesus Church vicarage. Various extensions were added between 1835 and 1840.