This article by Stephen Gilburt was published by The Enfield Society in newsletter 216 (Winter 2019) and is a companion to the article which appeared in newsletter 215 (Autumn 2019).

Illustration 1.
This 1905 photograph, taken from the top of St Andrew's church tower, shows on the right Shoebridge and Rising's 1899 Kings Head public house. It replaced a mid 17th century inn. In the market place is the Universal Penny Bazaar next to a mound of fruit. The 8-sided market house, by Sidney M. Cranfield, was erected in 1904 to commemorate the coronation of Edward VII in 1902. It replaced John Hall's 1826 market cross which can now be seen in Myddelton House rose garden. (See newsletter 183, Autumn 2011 and newsletter 210, Summer 2018.)
The surviving part of the mainly mid 16th century Enfield Palace (Enfield Manor House) can be seen seen behind Pearson Brothers and other shops in Church Street. Pearson Brothers had taken over William Lock's drapery shop in Enfield House in 1902. (Enfield Palace was finally demolished along with the shops in 1927 and replaced by Pearsons department store. The magnificent cedar of Lebanon, plated by Dr Robert Uvedale in 1663, was also cut down (see newsletter 186, Summer 2012).
On the left is W. Gilbee Scott's 1897 Flemish Renaissance style London and Provincial Bank which replaced the 17th century former Greyhound Inn. (It was bought by Barclays bank in 1918).
Illustration 2.
This view from about 1901 shows the newly opened J. Sainsbury in Palace Parade on the South side of Church Street with poultry proudly displayed in the open air in the lead up to Christmas. The interior was, as I remember, attractively tiled throughout. It had a central aisle with counters on either side. The shop assistants would prepare the amounts of meat, cheese, butter and other foods as requested by customers.
Illustration 3.
This colour postcard from around 1910, looking west along Church Street, shows the Palace Parade of shops built in 1898. Among the shops in the Edwardian period were Lipton famous for tea, Domestic Bazaar, Lilley and Skinner whose shoe shop opened in 1907, Enfield Confectioners and Savile Bros. who had pianos for sale at 24 guineas (£25.20) in 1905. Between the two buildings with the conical roofs was the entrance to Palace Gardens with its Edwardian houses. (These were replaced by Palace Gardens shopping precinct in 1982.) Further down Church Street were Parke's Drug Store (1898–1950s, which became Timothy White) and Raynes Library. There were offices for Philip Wagstaff House Agents (1902–29), Royal Chase Permanent Building Society and Gardner and Burgess coal merchants (1898–1906). On the right is the wall around Burleigh House.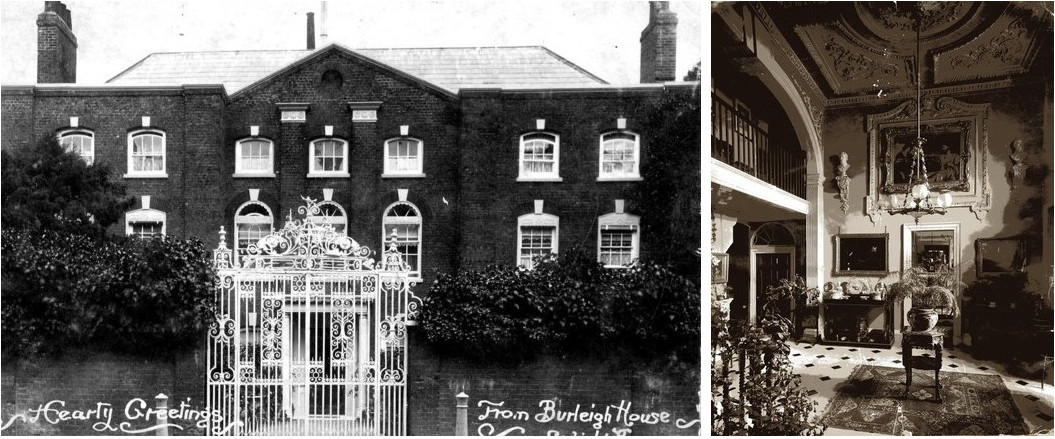 Illustrations 4, 5.
Burleigh House was one of several large houses in Church Street in the late 19th century. It was built in the mid 17th century by James Mayoe, an unscrupulous lawyer. The house had brick pilasters on the front of the central section, which was probably the oldest part, and ornate wrought iron gates. The front entrance led into a fine hall, lined with Purbeck stone, which contained a fireplace with Flemish tiles. Behind was the kitchen with roasting spit and scullery. The house had its own well. Above the hall was the drawing room with three circular headed windows. On the second floor were the bedrooms. Burleigh House was so named by Mr Withers who lived there with his wife between 1865 and 1912. The house was demolished in 1913 and the Rialto cinema was built on its site in 1920. (The cinema was renamed the Granada in 1967 but closed in 1971. After a period as a bingo hall, it was eventually replaced with the present forty two residential flats and six commercial units.)
Illustration 6, 7.
Left: this 1906 photograph shows the Post Office which moved from the Enfield Palace to its present site in the grounds of Percy House in 1906. Percy House (right) was a private day school for girls and boys from 1894 until it was demolished in 1907. The parade of eight shops to the left of the Post Office was built in the early 1890s and more shops with living accommodation or offices above were added to the west in 1907. A parade of shops was built to the right of the Post Office in 1908.
Illustration 8.
This 1880s photograph shows the 1726 Rising Sun inn towards the western end of the south side of Church Street. Between 1862 and 1882 the licensee was Ebenezer Biscoe, and his widow Henrietta was the licensee from 1882 to 1891. They operated the inn with aid of a maid, barmaid and potman. Ebenezer Biscoe also hired out horses and ran a cab service. He enjoyed hunting with hounds and was a member of the First Volunteer Force, Yeomanry Cavalry, Lodge of Forestry and the Freemasons. (The inn was demolished in 1933 to allow for Church Street to be widened.) On the right is the wall around Little Park in Gentlemans Row which became local government offices (see newsletter 190, Summer 2013).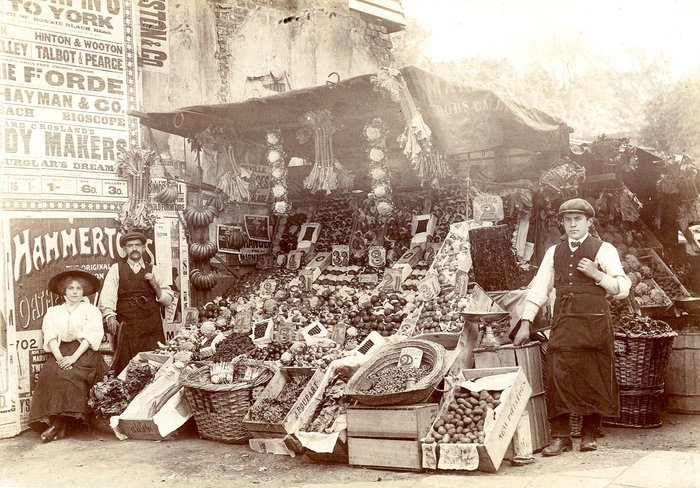 Illustration 9.
Kitchener's greengrocers began in Brigadier Hill before opening a stall towards the western end of Church Street. On Saturdays they had a stall in Enfield Market. Vegetables, nuts and fruit, including bananas from the Canaries and oranges and tomatoes from the Spanish mainland were sold. In this 1909 photograph Florence and James Kitchener, children of the proprietor, are shown with Alf Chidley standing next to Florence. Mr Kitchener, who ran three pair-horse vans, would leave for Spitalfields Market at 4am and the stall would be open between 10am and 8pm. In 1911 the Kitcheners left Church Street to move to a shop in Chase Side.
Next to the stall was Nickold's music shop which in 1910 had stocks of gramophones, talking machines and phonograph (gramophone) records.
A poster on the wall between the music shop and the stall advertised music hall performances at the Edmonton Empire in Fore Street which opened in 1908. "Edmonton Empire. This new and beautiful hall. Tip-up seats throughout. Private boxes to hold four 7s 6d (37½p). Orchestral stall 1s (5p). Circle 6d (2½p). Pit 3d (1p). Cycles stored free of charge." [Enfield Gazette, 28th January 1910.] Among the entertainers listed on the poster was Florrie Forde "The World's Greatest Chorus Singer" who sang "Down at the Old Bull and Bush" and other songs. There were also variety, comedy and juggling acts, a presentation of "Dick Turpin's Ride to York with the death of Bonnie Black Bess" and films from the Bioscope Company. The projector was initially rather perilously mounted on the edge of the gallery and the films were projected on to a screen at the back of the stage.
(In 1922 Marie Lloyd's last performance was at the Edmonton Empire—she died a few days later. The stage was enlarged when the Empire was converted to show sound films in 1933. It was demolished in 1970.)
Illustration 10.
This 1910 view is looking east along Church Street from the corner of Sarnesfield Road. W. J. Harris made baby carriages. The other shops in the parade were Graham Bros. "Cycle manufacturers and cycle experts", Arthur Escott's boot shop and J. Salman and Son oilman. Beyond the Bovril sign was Nickold's music shop and the Rising Sun inn which were both demolished in 1933 when Church Street was widened.
---
The photographs used in this article were taken from the extensive collection held by Enfield Local Studies Library and Archives. It also has many publications on Enfield which may be consulted. A number of the photographs in the collection were originally issued as postcards and some of them were hand coloured. In recent years many have been re-issued as postcards and are on sale at the Dugdale Centre. They may be also be purchased from The Enfield Society.
Collections of old photographs have been brought together in several publications including Enfield, A Portrait in Old Picture Postcards by Peter Lister, Michael Parker and Arthur Robinson 1991; The London Borough of Enfield by Alan Dumayne 1996; Enfield by Stephen Sellick 2001; Enfield through time by Stephen Sellick 2011.
For more information on Enfield Town see A History of Enfield volume two 1837–1914 a Victorian Suburb by David Pam 1992; Enfield Past by Graham Dalling 1999; The Enfield Book by Graham Dalling 2007 and Enfield Town village green to shopping precinct by David Pam 2007. For more information on cinemas see Theatres, music halls and cinemas in the London Borough of Enfield by Geoffrey Gillam 1986. For more information on public houses see A–Z of Enfield Pubs part 1 by Gary Boudier 2000 and Photographic History of Enfield Pubs part 1 by Gary Boudier 2001.