This article by Stephen Gilburt was originally published in two parts in the Enfield Society newsletter, issues 204 (Winter 2016) and 205 (Spring 2017).
The settlement of Clay Hill, between Enfield and Crews Hill, is referred to as Cleyein in 1214, Clayhyl in 1524 and Clayhillgate in 1636. The name is thought to refer to a person rather than the nature of the soil. By 1572 there was a small group of cottages (including one occupied by a brickmaker) near a ford and a footbridge across Turkey Brook. The hamlet was reached by a road west from Forty Green (now Forty Hill) which was variously known as Bread Street, Bridge Street and Clay Hill. In the 18th and 19th centuries a number of large houses were built and many of the surviving ones are now listed Grade II. Between 1613 and 1859 a now abandoned section of the New River flowed west to east along the 100 foot contour north of Clay Hill.
The Clay Hill conservation area, established in 1983, covers the area from Stratton Avenue up Clay Hill to the Fallow Buck and St John's Church, together with part of Theobald's Park Road. Clay Hill may be reached by bus 191 to the roundabout at the junction with Baker Street or by bus W10 which travels the length of Clay Hill to St John's Church. The W10 leaves from outside Enfield Town Post Office hourly from 10:25 to 16:25 on Saturdays and from 10:25 to 13:25 on weekdays.
For more information on the area, see A history of Crews Hill and beyond by Roy Martin, 2007; Fringe benefice: a history of the parish of St John and St Luke, Clay Hill, Enfield edited by John Wright, 2015; A-Z of Enfield pubs, part 1 by Gary Boudier, 2000; Enfield past by Graham Dalling, 1999; The Enfield Book by Graham Dalling, 2007; A history of Enfield in four volumes by David Pam, 1990, 1992 and 1994 and Monica Smith, 2015; and Treasures of Enfield published by the Enfield Preservation Society in 2000, which illustrates and describes the architectural heritage of Edmonton, Enfield and Southgate. All these books may be consulted at the Enfield Local Studies Centre and Archive.

Photo courtesy of Enfield Local Studies & Archive

Illustrations 1, 2:
The Fallow Buck, at the junction of Clay Hill and Strayfield Road, dates from the late 16th or early 17th century. It is a weatherboarded timber framed building with a U-shaped plan and projecting gables. Before 1761 it was known as Clay Hill Gate. For ten years in the late 18
th
century the licensee was William Crew, after whom Crews Hill is named. In the late 19th century the inn included a yard with stables, fowl pens and sheds, orchards, paddocks and barns. The flags in the 1902 photograph on the left may be to celebrate the end of the Boer War or the Coronation of Edward VII. The public house closed in 2014 for the building to be converted into residential accommodation.

Photo courtesy of Enfield Local Studies & Archive
Illustration 3:
Hill Lodge was built in the early 1800s next to the Fallow Buck. The estate included a farm, Dutch barn, stables and two cottages set in 23 acres of pastoral land. It was the childhood home of the engineer Sir Joseph Bazalgette (1819-91) who was responsible for constructing London's sewerage system. Major George Ramsay, a resident in the 1840s and a director of the Enfield and Edmonton Railway Company, proposed the construction of a branch railway line from Angel Road, Edmonton, to Enfield Town, which opened in 1849. A later 19
th
century resident, the engineer Sir Roland Stephenson, served on the Enfield Board of Health and was employed to improve Enfield's water, sewerage and roads. In the early 20th century Rev Reginald Campbell lived at Hill Lodge. He was the congregational minister at the City Temple between 1903 and 1915. He was followed by the publisher Joseph Dent. In the 1960s Hill Lodge was demolished and replaced by a house and two bungalows.

Photo courtesy of Enfield Local Studies & Archive
Illustration 4:
This 1920 aerial view shows Kingswood, which was built on the south side of Clay Hill in about 1873 and has been a private residence ever since. After the Tudor gatehouse at Durants Arbour, Ponders End, was demolished in 1910, some of the fittings may have been incorporated into Kingswood.
Illustration 5:
In 1847 James Whatman Bosanquet introduced Sunday afternoon services and lectures for working class people in a mid-19th century cottage in Flash Lane. The chapel and school remained in use until 1875 and the lancet windows of the former chapel can still be seen in "The Cot".
Illustration 6:
In 1820-21 the cast iron Flash Lane aqueduct was constructed with brick parapets and was supported on three brick piers to carry the New River over Cuffley Brook.

Courtesy Enfield Local Studies & Archive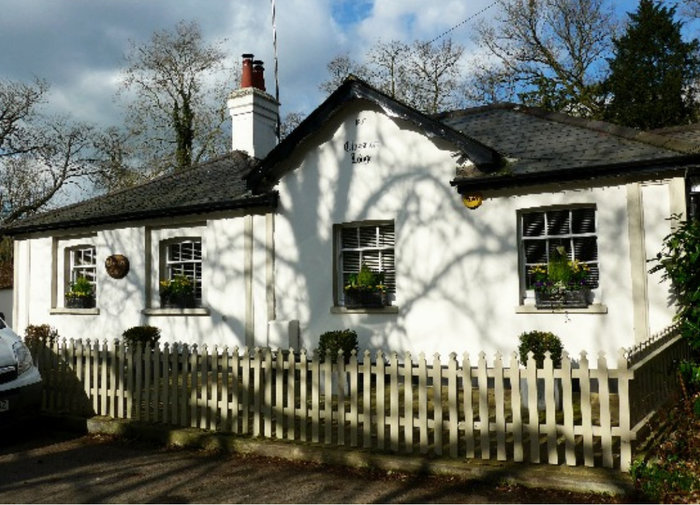 Illustrations 7, 8:
Clay(e)smore was a large stuccoed house built about 1740 on the north side of Clay Hill. The print dates from the ownership of the banker and founder of the Protestant Association, James Whatman Bosanquet, between 1847 and 1877. The 150 acre estate included barns, stables, coach houses, offices, outhouses, potting sheds, greenhouses, kitchen gardens, orchards and canals. Between 1896 and 1902 the house was used as a school and later briefly as a sanatorium before reverting to residential use. In 1937 the house and outbuildings were demolished. In the 1950s a new house, now called Brayside Farm and converted into flats and a riding school, was built on part of the site. Part of Clay(e)smore Lodge, which has the date 1803 on the facade, was fitted out as a private chapel in the mid-19th century.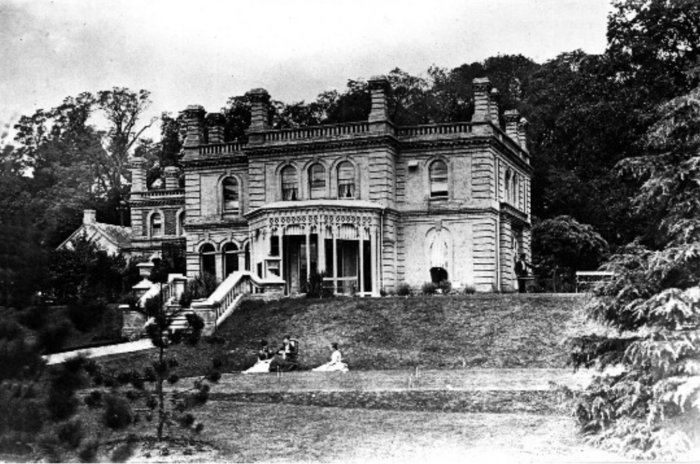 Photo courtesy Enfield Local Studies & Archive
Illustration 9:
Woodbury was built in 1853 in an Italianate style and was set in 13 acres of grounds on the south side of Clay Hill. It had an entrance hall, large sitting room, library, morning room, billiard room and office, with ten bedrooms and two bathrooms on the first floor and servants' rooms and a wine cellar in the basement. There was also a coachman's cottage and stables for three horses. Joseph Toms (of Derry and Toms department store in Kensington) lived there from 1876 and members of his family can be seen by the croquet lawn in this view of the south front. In 1968 it became an "educational recovery unit" called Clay Hill House. Since 2010 Woodbury Manor has been restored to its Victorian appearance and now provides "residential care for elderly gentlefolk".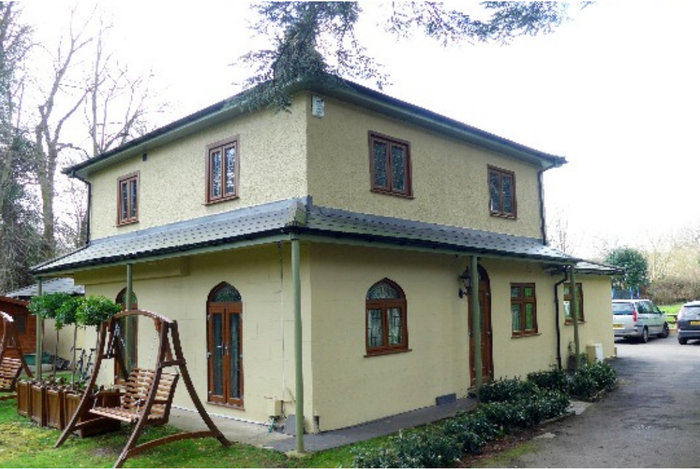 Illustration 10:
The early to mid-19th century Clay Hill Lodge on the south side of Clay Hill should not be confused with the former Clay Hill Lodge in Strayfield Road. It has a central chimney and a loggia with a hipped slate roof supported by wooden posts. The pointed windows on the ground floor have Gothic tracery.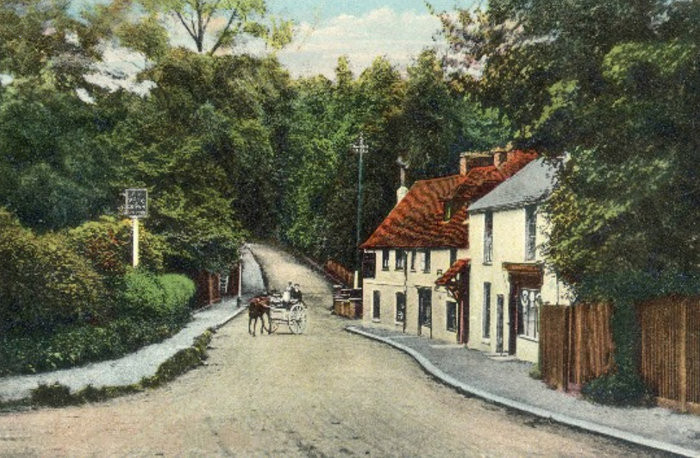 Courtesy of Enfield Local Studies & Archive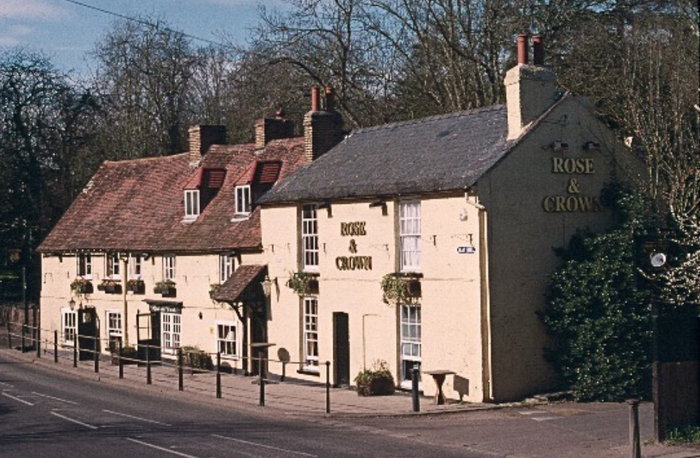 Illustrations 11, 12:
The late 16th or early 17th century timber framed Rose and Crown (possibly previously known as The Rose) has an early 18th century painted brick front with gabled dormer windows in a high pitched tiled roof. It was first recorded as an inn in 1716, when the area was known as Bull Beggars Hollow and Bull Beggars Hole. The middle section was originally a separate cottage. The early 19th century two-storey slate roofed building on the right was for many years a shop; it was in turn a drapers, an off licence and a sweet shop, before being incorporated into the public house. The 1906 picture postcard view on the left shows a milk delivery cart from a dairy farm on the Ridgeway. In 1909 Enfield Urban District Council purchased the 62 acre Park Farm between Clay Hill and Phipps Hatch Lane for £7,950 and Hilly Fields Park opened in 1911. The bandstand has been used for concerts and holidays in the parks entertainments for children. There was also a pitch and putt course at the Clay Hill end of the park.
Left photo courtesy of Enfield Local Studies & Archive
Illustration 13:
The central section of Bramley House was built in 1750 in brown brick with red brick dressings. It had extensive grounds, stretching northwards to the New River. The house was extended on the left in 1881 and became a private school which can be seen in the 1910 photograph. From 1915 it was a home for boys with learning difficulties. This was changed to girls in 1921 and a further extension was added on the right in 1926. In 1948 it became an NHS hospital. Another wing was built in the 1980s and Bramley House Court now contains 27 sheltered flats. The former stable building was converted into a family residence.
Photo courtesy of Enfield Local Studies & Archive
Illustration 14:
Great Pipers, later known as The Barracks, built in 1700, is shown in a photograph from the 1870s.
Photo courtesy of Enfield Local Studies & Archive
Illustration 15:
20 cottages were built on the site in 1881, some facing on to St John's Terrace and some on to Clay Hill, as shown in this 1909 photograph.
Illustration 16:
In the 1950s a teddy bears' tea party was regularly displayed in the front garden of one of the cottages
Illustration 17:
The 19th century stuccoed façade of Little Pipers incorporates an earlier building, parts of which may date back to the late 16th and early 18th centuries.
Illustration 18:
The Firs is a two storey house, with seven bays and a stuccoed façade, built in 1820. The ground floor windows have moulded rusticated architraves. The entrance has an open-pedimented porch with Ionic columns. In 1962 the house was divided into five flats, one of which was occupied by the actor Reg Varney, who starred in The Rag Trade and On the Buses on TV. In 1967 Reg Varney was the first member of the public to use the world's first cash machine, outside Barclays Bank in Enfield Town.