This article by Stephen Gilburt was published in Enfield Society News number 206, Summer 2017.
The manor of Delmetone or Adelmetone (Eadhelm's farm), mentioned in the Domesday Book of 1086, was given by William the Conqueror to Geoffrey de Mandeville and was later purchased by Henry VIII.
In the 17th and 18th centuries Edmonton was more prominent than its neighbours Tottenham and Enfield because of its fairs which finally ceased about 1870. Fore Street was part of the main road north from London to Waltham Cross. Despite later alterations, several Georgian houses have survived from a time when Edmonton was a pleasant village for wealthier Londoners to live in. These houses are listed Grade II and some form part of the Fore Street conservation area. (For information on Millfield House, see TES News no. 181.)
Following the arrival of the Northern & Eastern Railway along the Lea Valley in 1840 with a station called Edmonton (today's Angel Road), and the Great Eastern Railway further west in 1872 with a station at Silver Street, the nature of the area changed. Many working class dwellings were erected when cheap tickets on workmen's trains became available. 1881 saw the introduction of horse-drawn trams along Fore Street and the route was electrified in 1905.
For more information on Upper Edmonton see Middlesex by Michael Robbins (1953, reprinted 2003), Theatres, music halls and cinemas in the London Borough of Enfield by Geoffrey Gillam (1986), Southgate and Edmonton past by Graham Dalling (1996), Treasures of Enfield edited by Valerie Carter (2000), A-Z of Enfield pubs, part 2 by Gary Boudier (2002), and History of the North Middlesex University Hospital by Gary Boudier (2003). These books may be consulted at the Enfield Local Studies Centre and Archive.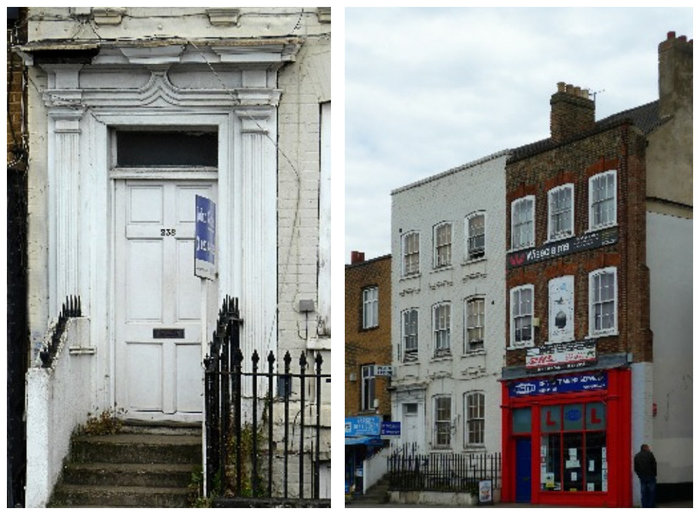 Illustrtation 1:
236 and 238 Fore Street are a pair of early 18th century three storey houses. The windows were replaced with modern ones in the 20th century (see
Treasures of Enfield
) but since then Georgian-style sash windows with glazing bars have been installed. The entrance to 238 has retained its original Roman Doric pilasters, portico and wrought iron railings.
Illustration 2:
258 and 260 Fore Street date from the mid-18th century and have been restored fairly recently. Each house is three storeys high with a semi- basement originally for use by the servants. The houses have imposing Ionic door cases with pediments.

Illustration 3:
Angel Place, 183-195 Fore Street, comprises three linked pairs of mid-18th century two-storey houses, with dormer windows in the tiled or slated mansard roofs. The door cases are in the Roman Doric style with open pediments. A plaque on the side wall of 183 records the site of the Angel Inn, where the Stamford Hill Green Lanes Turnpike Trust met between 1713 and 1826.

Top left photo courtesy of Enfield Local Studies & Archive
Illustration 4:
The Alcazar Cinematograph Theatre, shown soon after its opening in 1913, had seating for 1700 people and a separate dance hall. It had a Moorish style verandah and balcony facing on to Fore Street. In the grounds were Summer and Winter Gardens. In the 1920s and 1930s the Alcazar advertised films, dancing, roller skating, orchestral concerts, illuminations, stage shows, boxing and wrestling. The cinema was rebuilt for sound in 1933 but was destroyed by a bomb in 1940. The opening film in 1913, The Battle of Waterloo, is recalled in a mosaic installed by Art Start in Moree Way. Art Start is Enfield's primary community arts provider. Working with local schools, eight now lost places of entertainment were recreated in mosaic. (See
TES news, no 181
, Spring 2011 for details.)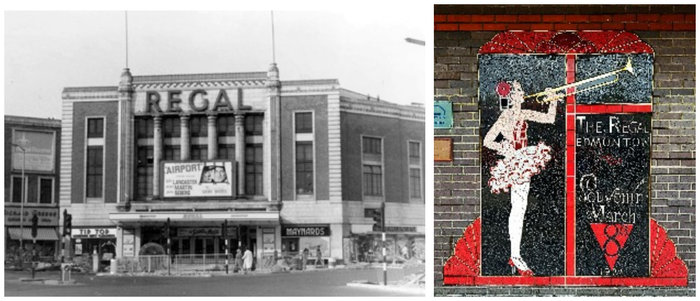 Left photo courtesy of Enfield Local Studies & Archive
Illustration 5:
The Regal cinema in Fore Street is seen here in a photograph from 1970. It opened in 1934 with seating for 3000 and standing room for a further 1000. There was also a cafe and a large ballroom. The Architect was Clifford Aish, F.S.I. Sidney Torch was the first organist to play the ten ton Christie four-manual, fifteen-rank organ with grand piano attachment. Productions at the cinema included pantomimes, variety, ice shows, ballet and orchestral concerts. In 1968 the Regal was divided into a smaller cinema and a bingo hall, but it was demolished in 1986 and replaced by a supermarket. In 1984 the organ was dismantled and between 1986 and 2010 was in the Memorial Hall, Barry, South Wales. Since 2013 it has been restored and then installed at Paul Kirner's Music Palace, Porth, South Wales. The cover of the souvenir programme for the first performance at the Regal on 8th March 1934 is illustrated in a mosaic installed by Art Start on the wall of Lidl's in Sterling Way.


Photos courtescy of Enfield Local Stuidies & Archive
Illustration 6:
The original Pymmes House was built by William Pymme after the estate had been granted by Edward II to the Pymme family in the 14th century. In 1593 it was the home of William Cecil, Lord Burleigh, who was Lord High Treasurer of England. It was substantially rebuilt in the 17th century and the garden front, shown here in an 1895 photograph, was refaced in the Adam style in the late 18
th
century. In the late 19th century Pymmes was owned by Sir Henry Tyler, MP, a leading opponent of the separation of Southgate from Edmonton in 1881. The interior views date from around 1890. Pymmes Park was officially opened in 1906, although part of it had been accessible to the public since 1897. The house was demolished in 1940, after it caught fire, although the fire is not thought to have been the result of enemy action. The Grade II listed garden walls dating from around 1600 can still be seen.