This article by Stephen Gilburt was published by The Enfield Society in newsletter 214, Summer 2019.
Introduction
In 1871 a branch of the Great Northern Railway from Kings Cross was constructed to Enfield with intermediate stations at Palmers Green and Winchmore Hill. When the line was extended to Cuffley in 1910, a station was added at Grange Park at the instigation of the developer Richard Metherill. In 1907 the electric tram route along Green Lanes was extended north from Manor House to the Green Dragon at Winchmore Hill. It finally reached Enfield Town in 1909.
Following the sale of land by the Taylors of Grovelands in 1902 and the Powys family at Broomfield in 1903, there was a substantial development of housing. The population of Southgate Urban District rose from 10,970 in 1891 to 14,993 in 1901 and by 1911 had reached 33,612. People were moving north from older middle class suburbs such as Stoke Newington and Islington to what were seen as more healthy areas on higher ground. In 1905 alone plans were submitted by 40 builders for 645 houses in New Southgate, Palmers Green and Winchmore Hill.
Broomfield Park Estate
An advertisement in 1905 offered houses at prices from £450 (roughly £54,000 today) leasehold on the Broomfield Park Estate between Broomfield Lane and Pymmes Brook "three minutes walk from Palmers Green station and opposite Broomfield Park._._. The houses are semi-detached containing five bedrooms, bathroom, two W.C.s, large dining room, drawing room, lounge hall with fireplace, kitchen, scullery, servants side entrance and paved yard. Good gardens. These houses are very tastefully decorated and fitted with electric bells and gas. Other smaller houses are available upon the estate."
Old Park Estate, now known as the Lakes Estate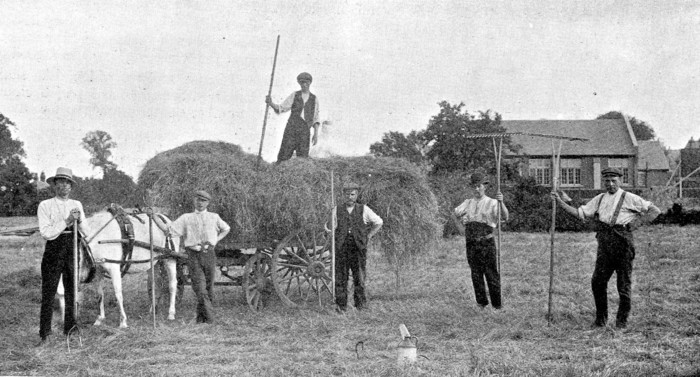 Illustration 1. "The last load of hay from the last of the Fox Lane fields… Today streets of houses—occupied with gardens laid out—a church and a school stand completed on part of the fields._._. Aldermans Hill, a picturesque narrow road which faced a private park, has become in three years a busy shopping thoroughfare, a tribute to the business enterprise of the traders." [The Recorder for Palmers Green, Winchmore Hill and Southgate, 1909.]
In 1902 130 acres of the Old Park Estate between Fox Lane and Aldermans Hill in Palmers Green were sold at auction to The British Land Company for £45,000. In 1904 the company laid out roads and sold plots of land to various builders who erected densely packed semi-detached and terraced middle class houses between 1905 and 1914. The estate also included shops with flats above, built by Edmondson in Aldermans Hill in 1908.
Southgate County School of 1909–10 was designed in the Free Baroque style by H. G. Crothall. In 1984 it was converted into flats now known as Carib Court. Palmers Green Congregational Church hall was built in Fox Lane in 1909, with a church designed in a late Gothic style by George Baines and Son being added alongside in 1913–14. Work began on building St George's Presbyterian Gothic style church in 1912. Following the joining of the Congregational and Presbyterian Churches to form the United Reformed Church in 1972, St George's church was demolished in 1980.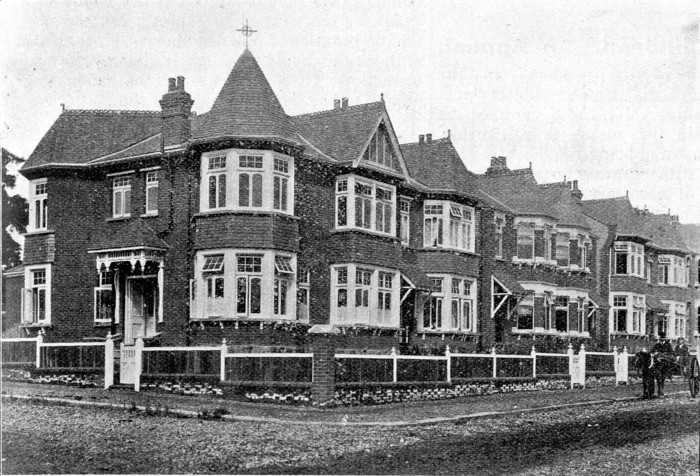 Illustration 2: Houses on Ulleswater Road Estate.
In 1907 W. J. Edwards offered "substantially built residences in Ulleswater and Conway Roads" at prices between £375 and £1,400 "five minutes from station and electric tram route."
In 1907 the New London and County Building and Estate Co. had "ideal semi-detached villas" in Derwent Road for sale for between £450 and £550 or for rent for between £36 and £46 per annum. The company also built houses in Conway Road at prices from £575 freehold or £385 leasehold with a ground rent of £7 10s per annum. The brochure described the houses as being in "The highest part of Palmers Green, extending north from the railway to the picturesque and charming village of Southgate with its lovely mansions in their fine old gardens, village green and pond."

Illustration 3: Two pairs of houses in Derwent Road

Illustration 4: Interior views of the Drawing Room and Hall of a house in Derwent Road
In the late 20th century some of the owners of the houses made various alterations, including replacing the slates on the roofs with heavier cement tiles and installing aluminium or uPVC framed windows in place of the original casement windows.
In 2010 ten streets of fine Edwardian houses between Fox Lane and Aldermans Hill were designated the Lakes Estate conservation area to protect the properties from further unsympathetic alterations. Since then some of the earlier changes have been reversed. The character appraisal, prepared to justify the granting of conservation area status, mentioned "The architectural and historic interests of the large and cohesive area of high quality Edwardian houses, influenced by the picturesque vernacular revival and Arts and Crafts styles" and "The exceptional decorative quality of the houses, most notably their porch and window joinery, doors and stained glass, as well as decorative plasterwork, tile hanging and fine brickwork."

Illustration 5: Front entrance to a house on the Lakes Estate showing a decorative Arts and Crafts style wooden porch, stained glass panels in the door and tiled path.
Grange Park Estate

Illustration 6: Green Dragon Lane in 1906. In 1909 The Recorder for Palmers Green, Winchmore Hill and Southgate reported that "The old lane has been transformed from a narrow picturesque avenue of trees and high hedges into a fine wide road, flanked on one side by an artistic row of high-class houses."
In the 1880s Richard Metherell had built houses in Muswell Hill and in 1895 he moved into a house in Bush Hill. Between 1905 and 1908 he bought three estates at Old Park Grange, Bush Hill and Chase Park and diverted Hounsden Gutter to reclaim an acre of marshy land. Between 1907 and 1914 he built large well designed detached and semi-detached houses in the Arts and Crafts style for affluent members of the middle classes. Eight different designs were used and no two adjoining pairs were identical. Each house had five or six bedrooms and two or three reception rooms. Where possible fruit trees from former orchards were retained. Houses in Green Dragon Lane, The Chine, Old Park Ridings and The Grangeway were offered for sale for between £500 and £1,100 leasehold or for rent for between £48 and £70 per annum. A parade of shops with flats above was constructed in The Grangeway. In 1912 Old Park Avenue was opened to link Grange Park with Enfield Town. The provision of sports and social clubs and the proximity to the railway stations and electric trams were mentioned in advertisements for the estate.

Illustration 7: Semi-detached houses in Grange Park built between 1907 and 1914.
Between 1921 and 1935 the Grange Park estate was completed with houses in the central part of The Chine and Old Park Ridings and the area west of the railway line.
In 1938 Grange Park Methodist Church was built in Old Park Ridings to a striking Art Deco design by Charles H. Brightiff. St Peter's Church of 1939–41 by Cyril Farey in Vera Avenue shows Scandinavian and Romanesque influences.
Most of the houses have been well maintained and new work has generally been in keeping with the original designs. Some front gardens have been paved over to provide hard standing for cars and some boundary walls have been replaced.
In 2008 the area comprising the housing along The Chine, Old Park Ridings and the Grangeway was designated the Grange Park conservation area to help preserve the character of the area and prevent further unsuitable alterations.
For more information on Edwardian housing and the estates in Palmers Green and Grange Park see The Recorder for Palmers Green, Winchmore Hill and Southgate 1907–16; Once upon a time in Palmers Green by Alan Dumayne 1988; Fond memories of Winchmore Hill by Alan Dumayne 1990; Semi-detached London, Suburban Development, Life and Transport 1900–39 by Alan A Jackson 1991; A history of Enfield, Volume Two 1837–1914 A Victorian Suburb by David Pam 1992; Southgate and Edmonton Past by Graham Dalling 1996; The old borough of Southgate by Alan Dumayne 1998; The Buildings of England London 4: North by Bridget Cherry and Nikolaus Pevsner 1998; The Enfield Book by Graham Dalling 2007; No Stone Unturned, A History of the British Land Company 2008 and Rediscovered Utopias, saving London's suburbs 1870–1939 edited by Bridget Cherry and Ann Robey 2010. Many of these publications may be consulted at Enfield Local Studies Library and Archives, which also supplied the black and white illustrations used in this article.