This article by Stephen Gilburt was published by the Enfield Society in newsletter 193, Spring 2014.
The 1919 Housing and Town Planning Act enabled local authorities to provide and maintain homes for the working classes; "Homes fit for heroes" was a slogan of the time. Enfield's first council homes were 30 semi-detached brick houses built in 1921 by Allen Fairhead at Lavender Hill. These were followed by cheaper, mainly terraced 4- and 6-roomed houses, mostly in and around Ponders End and Bush Hill Park, reaching a total of 513 by the end of 1926. With 839 families on the waiting list, the Council began building 488 houses in 1927, with a further 400 planned for the Suffolks Estate in 1930. By 1939 Enfield Urban District Council had built 31 one-bedroom "aged persons" flats and maisonettes, 415 two-bedroom, 1,276 three-bedroom and 24 four-bedroom houses on 16 council housing estates.
Post-war housing
Following the end of the Second World War in 1945, local authorities received many applications for homes and the government encouraged councils to provide prefabricated temporary bungalows, known as "prefabs". Nearly 160,000 were constructed from 2,500 numbered parts in former bomber factories. They were built on a concrete base with a steel frame and asbestos cement walls. At £1,300 each they cost more than conventional permanent brick houses built by private contractors.
An example of the Universal Mark 3 prefab has been re-erected at the Chiltern Open Air Museum, near Rickmansworth on the Herts/Bucks border. It has two bedrooms and a living room with a coal stove, utility furniture, a sewing machine and flying ducks on the wall. The kitchen has a Belling electric cooker, an Electrolux refrigerator, a copper and a mangle. There is also a small bathroom with a separate toilet. The Avoncroft Museum, near Bromsgrove in Worcestershire, also has a prefab.
Enfield UDC had 347 prefabs of the American, the Arcon Mark V and the aluminium types, including 149 at Manor Farm on the Great Cambridge Road and 84 on the Town Estate.
The first permanent post-war homes were 40 traditional brick houses in Addison Road, Enfield Highway, 100 Scottwood factory built houses in Lonsdale Drive, Cocker Road and Hook Gate, and 136 British Iron and Steel Federation prefabricated houses in various locations. These were followed by 74 traditional brick houses on the Hoe Lane Estate and a further 58 in the Turkey Street area.
B.I.S.F. houses, produced by the British Steel Homes Company, were constructed with steel frames, standard metal windows and steel sheets clad in cement render. Some houses had brick cladding on the lower floor and simulated timber weatherboarding on the upper floor. Timber frames inside were faced with plasterboard or hardboard.
Rooms in many post-war houses were smaller than in many earlier homes, but the dining room was often combined with either the lounge or the kitchen to make one larger room. For many people this marked the end of the separate drawing room / parlour / sitting room found in the homes of earlier generations. Rooms in the Addison Road council houses were heated with either gas or electric fires, as central heating did not become widespread until later in the 20th century. Kitchens were supplied with either a gas or an electric cooker, a copper and a refrigerator. Coke-fuelled boilers provided hot water. Built-in cupboards replaced the free-standing kitchen cabinets found in earlier homes. (See TES News nos. 174 and 184).
In 1948 weekly rents for council houses in Enfield varied from 7s 6d (37 1⁄2p) to 15s 6d (77 1⁄2p), plus 18s (90p) for rates. An Enfield tenants' handbook stated "By a great many people the demand of the Council is considered a gross injustice and the payment of the account is regarded as a dead loss financially" before explaining the value of the services provided from Council rates.
The completion of the 1,000th post-war permanent council home in Enfield was celebrated in 1951. Enfield was now the second-largest urban district in England with an area of 12,401 acres, a rateable value of £916,288, and a population of 110,458.
By 1954, the year before Enfield became a borough, the demolition of the prefabs had begun. The total council housing stock had reached 3,840 spread over 34 locations. There were 171 "aged persons" flats with a bed recess, one bedroom or two bedrooms, 308 two-bedroom prefabs, 389 two-bedroom flats or maisonettes, 545 two-bedroom houses, 2,359 three bedroom houses and 68 four-bedroom houses. The Council also held 420 houses which it had requisitioned under government legislation, because they were vacant.
Since the 1980s many council houses have been sold to their occupants under "right to buy" legislation and have been altered by their new owners. Many of the one-person flats have recently been demolished, because they had shared facilities.
In this article:
For more information see vol.3 of David Pam's History of Enfield and the guides issued by Enfield Chamber of Commerce and Enfield Council in the 1930s, 1940s and 1950s. These may be consulted at the Enfield Local Studies Centre and Archive, which also provided the photographs for this article.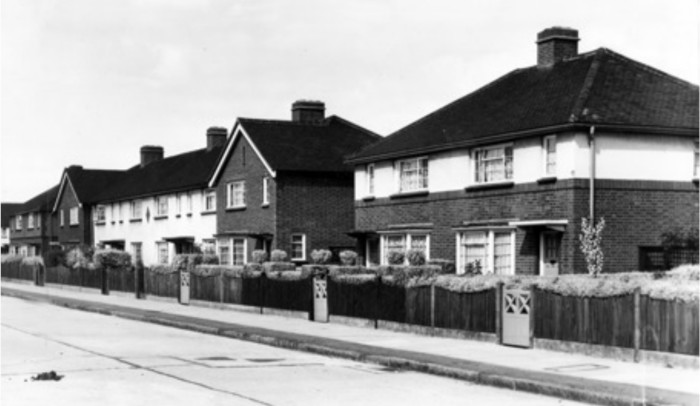 Illustration 1:
Brick Council houses in Stoneleigh Avenue on the Hoe Lane Estate in 1938. The deposit left in the road by a horse pulling a milk or bread delivery cart would be useful as manure for the garden plants.
Illustration 2:
Temporary prefabricated bungalows – "prefabs" – in Bullsmoor Lane in 1946
Illustration 3:
Brick Council houses in Addison Road, Enfield Highway, built by Townsend Collins in 1946.
Interior views of council houses in Addison Road in 1946
Illustration 4:
Lounge with a fitted carpet, a three-piece suite, a chair, a sideboard, a standard lamp and a coal-effect fire with a tiled surround.
Illustration 5:
Living room with a dining table and chairs, a three-piece suite, a radio (but no television), a standard lamp and a coal-effect fire with a tiled surround. The linoleum-covered floor also has a large carpet and a hearth rug.
Illustration 6:
Kitchen with a linoleum-covered floor, a locally-manufactured Belling electric cooker, a copper for washing clothes, etc., and a ceramic sink with a waste bin below. There are also a refrigerator and built-in cabinets. At the back is a coke-fuelled boiler to heat the water and a dining area with table and chairs.
Illustration 7:
Kitchen with a linoleum-covered floor, a gas cooker, a refrigerator, built-in cabinets and an electric iron. There are also a boiler, a copper and a sink. The hatch behind the worktop enabled food to be passed through to the dining table in the living room.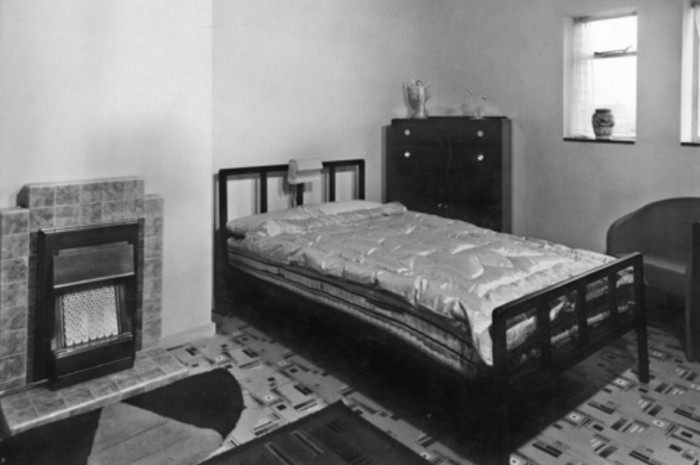 Illustration 8:
One of the larger bedrooms, with a wardrobe and dressing table, a chest of drawers, basket-weave armchair and bed with an eiderdown. There is a gas fire with a tiled surround and a carpet and hearth rug on the linoleum-covered floor.
Illustration 9:
This small child's bedroom has a wooden enclosed cot, a playpen on a carpet, a high chair and a table on the linoleum-covered floor.
Advice for Council tenants, 1957
Illustration 10:
The 64-page 1957 edition of Enfield's handbook for tenants set out the conditions of tenancy with its responsibilities and prohibitions.
Permission was needed for taking in lodgers, erecting sheds or poles, carrying on a trade and keeping dogs, goats, pigeons, hens or rabbits. The handbook contained notes on gardening and interior redecoration, how to avoid dry rot and dealing with vermin, woodworm and other insect pests – "no matter how particular a housewife may be in the cleanliness of her home, the abominable pests will sometimes find entry".
Health and safety in the home advice included what to do in the event of a fire, use of electric irons – "always switch off immediately you have finished, delay may be disastrous", using the skin of eggshells to stop bleeding and how to deal with burns, scalds, fainting and "foreign matter in the eye".
Hints for the housewife included advice on the shapes of kettles and saucepans to buy, cleaning knives, disposal of ashes, how to avoid scum in baths and clean taps, how to keep meat fresh with the aid of onions, using newspapers to clean windows, reviving linoleum and using dried potato peelings as fire lighters.
The 1939 edition of the handbook also had the following advice: "Always see that there is water in your wash boiler before you light the gas or fire" and "Before boiling, touch the damaged part of a bruised beetroot with a red-hot poker to prevent bleeding".
The 1957 handbook concluded with information on gas, electricity and water, London Transport and British Railways services, schools, public libraries, civil defence (which was concerned with post-raid care in the event of conventional, gas or atomic warfare), sport and entertainment, Enfield organisations and Justices of the Peace.