This article, by Stephen Gilburt, was published in Enfield Society News issue 212 (Winter 2018).
Introduction
Following the construction of direct railway lines from central London to Enfield Chase in 1871 (extended to Cuffley in 1910) and to Enfield Town in 1872, the arrival of the electric tram in Enfield Town in 1909 and the extension of the Piccadilly Underground line to Cockfosters in 1933 (see Enfield Society News No.209), the population of Enfield Urban District rose. In 1921 there were 60,650 people, in 1931 67,867 and by 1951 the total had reached 110,458. In the 1930s there was considerable development of middle class housing as farms and country estates were sold. Mortgages provided by building societies enabled many people to own a home for the first time, rather than rent. As one developer stated A House, a Home, a Little Palace, in a convenient healthy district, purchasable by anyone with a small capital and regular income.
Developers were keen to stress the amenities available in Enfield, including open spaces, parks and playing fields with facilities for cricket, football, hockey, tennis, running and bowls. Golf courses, miniature golf, putting greens and riding schools were also mentioned along with shops, schools, libraries and places of worship. Indoor entertainment could be had at social clubs, cinemas and dance halls. In 1932 London's largest open air swimming pool opened at the junction of the Great Cambridge Road with Southbury Road. It also offered shingle sun bathing beaches, shower baths, slipper baths for the benefit of those who did not have a bath at home, lawns, flower beds and an ornamental fountain.
For more information on north London's suburban private houses in the 1920s and 1930s and the way of life of their inhabitants, see Little Palaces, house and home in the inter-war suburb by Mark Pinney, Phillippa Mapes, Sue Andrew and Malcolm Barres-Baker, published by Middlesex University Press in 2003. It has chapters on architecture, decoration, household management, leisure and transport.
Rediscovering Utopias—saving London's suburbs edited by Bridget Cherry and Ann Robey, published by Save Britain's Heritage in 2010, concentrates on London's suburban houses built between 1870 and 1939. Case study 14 by Jonathan Clarke covers the South Lodge Estate, Oakwood, built by Laing between 1935 and 1939. More information on this estate can be found in Laing Pre-war Private Housing by A. Parfitt 1979, Laing's 10 Estates c1937 and The Laing Estate Southgate North sales brochure c1938. Information can also be found in various other developers sales brochures and in auction notices.
A History of Enfield, volume 3 1914–1939 A Desirable Neighbourhood by David Pam, published by the Enfield Preservation Society in 1994 covers houses for owner occupiers in chapter III section 8.
Information on this period may also be found in London's Underground Suburbs by Dennis Edwards and Ron Pigram, published by Baton Transport in 1986, London's Suburbs published by English Heritage in 1999, Semi-Detached London Suburban Development, Life and Transport 1900–39 by Alan A. Jackson, published by Oxford in 1991, Dunroamin, the suburban semi and its enemies by Paul Oliver, Ian Davis and Ian Bentley, published by Barrie and Jenkins in 1981 and The 1930s Home by G, Stevenson, published by Shire in 2000.
Many of these publications may be consulted at Enfield Local Studies Library and Archives, which also supplied the images of the South Lodge Estate in the Laing's sales brochure. The views of the Chase Side Estate in George Reid's sales brochure were provided by Robert Malleson.
Illustration 1.
George Reid and Sons built estates in Winchmore Hill, Wood Green, Stamford Hill, Edmonton and Tottenham. In 1934 they built 120 Splendidly equipped seven room villas, with separate kitchen and scullery on the Chase Side Estate between Parsonage Lane and the New River. The houses were sold for £645 leasehold (plus a ground rent of £8 per year) and £805 and £845 freehold. Deposits ranged from £30 to £65 and mortgages for the balance were repayable over 21 years.
The houses were built of Fletton bricks from near Peterborough and red Enfield facing bricks. The roofs were covered with Welsh slates at a time when tiles were becoming more popular. The houses had space for a garage via rear access roads, although most if not all people now park their cars in front of their houses.
Illustration 2.
The front drawing room 14ft 2in deep by 12ft 11in wide had a large square bay. The fireplace had a mottled tiled surround and a mahogany mantel with an art deco mirror. There was a point for a gas fire. The show house had an art deco lamp shade and the room was furnished with a three-piece suite and two other chairs.
Illustration 3.
The dining room at the back of the house was 14ft 4in deep by 10ft 11in wide. The fireplace had a mottled tiled surround and oak mantel with a boiler behind to provide hot water for the bath, hand basin and sink. The room had casement windows and a door leading into the garden. There was one electric power socket. The show house was furnished with a dining table and chairs, an armchair, a glass-fronted cabinet and a mirror.
Illustration 4.
The kitchen, 8ft 8in deep by 7ft 10in wide, was fitted with an electric radiator and iron. There was a labour-saving cabinet with a porcelain enamelled sliding table for food preparation. In the corner was a china cabinet with cupboards above and below. The room had one electric power socket.
A doorway led through to a half-tiled scullery measuring 5ft 8in deep by 5ft 6in wide. The white butler sink was fitted with chromium plated hot and cold taps and a draining board. Clothes would be washed in a "Swift" gas heated copper which was fitted with a wringer. There was a gas point for a cooker, a ventilated larder and a shelf for saucepans. The coal bunker and toilet behind the scullery were both accessible only from the garden.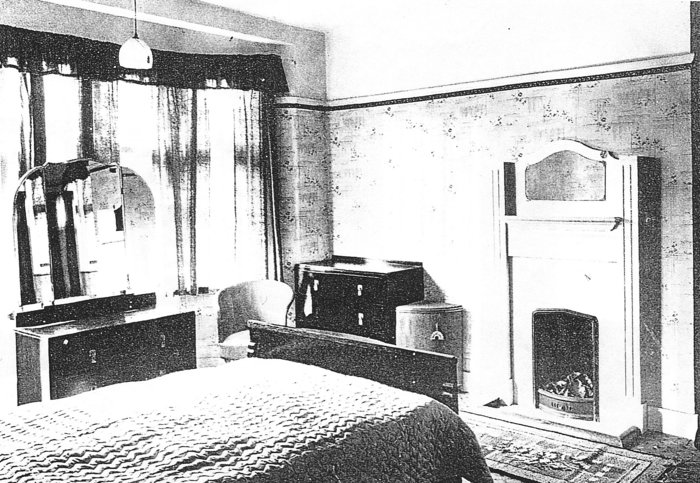 Illustration 5.
Upstairs the front bedroom measured 14ft 9in deep by 12ft 6in wide and had a large bay. It was fitted with a tiled fireplace and overmantel with a mirror and a gas point for a fire. There was a hanging switch beside the double bed and a light for the dressing table. The room was also furnished with a wardrobe, a chest of drawers, a basket weave easy chair and a linen basket for dirty clothes.
The back bedroom measured 11ft 4in deep by 12ft 6in wide and was fitted with an all tiled fireplace and point for a gas fire. It had a fitted airing and wardrobe cupboard.
The second front bedroom was 9ft 6in deep by 6ft 6in wide and was fitted with a recessed wardrobe cupboard.
Illustration 6.
The half-tiled bathroom measured 6ft 4in deep by 6ft wide. It contained a porcelain enamelled bath and black and white hand basin, both with chromium plated fittings, a toilet with a high-level cistern and a gas point for a geyser to provide hot water for the bath. The more expensive houses had a low-level toilet cistern, mixer taps to the bath and a shower attachment.
South Lodge Estate
In 1935 South Lodge and farm, formerly part of Enfield Chase, were sold to developers John Laing and Son Ltd who had been building houses for 90 years. Enfield Urban District Council authorised the construction of 624 houses on South Lodge Estate Oakwood, which was originally known as Southgate North. Many existing features, including green open spaces, trees and lakes were retained and were initially maintained by Laing. There were also planted verges between the pavements and roads. The estate, described by Laing as the most beautiful estate in north London was constructed between 1935 and 1939. Over 30 different variations of architect-designed upper middle class three and four bedroom semi-detached and detached houses were available to be built at prices between £845 and £1200 freehold. Mortgages were available at 4½% repayable over 20 years. Deposits of £50 were required ensuring that the estate "attracted the more stable purchaser, such as civil servants and employees in local government, banks and railways, school teachers and those with secure pensionable employment" [A. Parfitt]. Construction proceeded slowly and stopped after the outbreak of war in 1939. Laing did not complete the estate after the war and vacant plots were filled with houses in different styles.

Picture courtesy Enfield Studies & Archive

Illustration 7.
Many of the houses which had "rustic" facing bricks rather than cement render, combined modernist features with pitched roofs, covered with hand made tiles and chimney stacks. The Jubilee House featured at the 1935 Ideal Home Exhibition. The 1937 Coronation House had a modernist style full-height semi-circular tower bay at the front. All the houses originally had steel framed Crittall windows, often with curved "suntrap" bays. Owners were able to choose their own decorations and fireplaces and for an additional cost could have changes made to the designs and a garage constructed. Houses were fitted with electric points and gas points near fireplaces in the reception rooms and bedrooms. There was a gas point in the tiled bathroom for a geyser.
In the 1930s most middle class households operated without servants, although sometimes a "daily" or "treasure" from a working class area would be employed. The husband would usually go out to work, often using the good public transport services into London. The Laing sales brochure offered "modern labour-saving devices" designed to appeal to the stay-at-home wife. The kitchen is a revelation in convenience and comfortable conditions for working. It is a delight to every woman.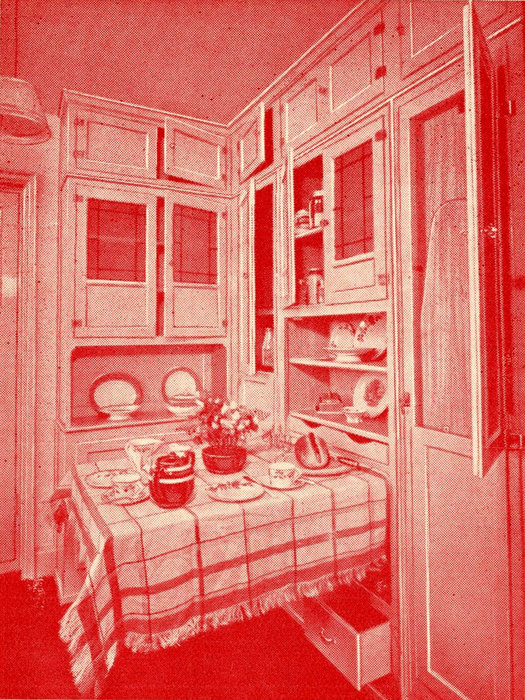 Picture courtesy Enfield Studies & Archive
Illustration 8.
The "De Luxe" kitchen, featured in the Jubilee and other houses, had a large fitted cabinet, a pull-out table with a folding double seat on one side, a "put-away" ironing board, cupboards for china and stores, a ventilated larder and cutlery drawers. The kitchen also had an enamelled gas heated copper for washing the clothes, an enamelled independent boiler to provide hot water, a tiled recess for a gas cooker with a point for a gas poker, a deep sink with a draining board and a red tiled floor.
Over the past 50 years most of the windows in the houses on the South Lodge Estate have been replaced with aluminium or u-pvc double glazed windows but without the curved glass which is difficult to obtain. Most of the original front and garage doors have been replaced and many of the front gardens have been paved over to provide hard standing for cars. Many of the houses have been extended with additional bedrooms and new garages. However, the buildings are well maintained and the estate has retained its attractive character, although it is not a conservation area.