This article by Stephen Gilburt was first published by The Enfield Society in newsletter 219, Autumn 2020.
The name Southgate is first found in 1370 and refers to the south gate of Enfield Chase. This was a hunting ground from 1138, owned in turn by the de Mandeville and de Bohun families, until it came under the control of the Crown. It was enclosed following an Act of Parliament of 1777.
Southgate was in the western part of the parish and manor of Edmonton. In 1615 Sir John Weld built a chapel in the grounds of Arnolds near Southgate Green. In 1719 Arnolds was replaced by Arnos Grove (which is now Southgate Beaumont—a Barchester care community, with in normal times free tours, tea and entertainment for visitors on Tuesday afternoons. See newsletter 177, Spring 2010). The Weld chapel was replaced by Gilbert Scott's Christ Church in 1863 (see newsletter 179, Autumn 2010). In the 18th century a number of mansions were built including Southgate House, Minchenden (1747), Cullands Grove and Southgate Grove, now Groveland Priory Hospital (1797) (see newsletter 217, Spring 2020).
The poet, novelist, playwright, essayist and critic James Henry Leigh Hunt (1784–1859) was born at Eagle Hall on the high street, which was destroyed in the Second World War. In 1813 he described the Prince Regent as "a fat Adonis of 50". This earned him a two year prison sentence and a fine of £500 (£35,000 today). While in prison he was visited by many of his literary friends including Charles and Mary Lamb, Lord Byron, Keats, Shelly, Coleridge and Hazlett. Hunt's best known poem is:
Jenny kissed me when we met,
Jumping from the chair she satin;
Time, you thief, who love to get,
Sweets into your list, put that in!
Say I'm weary, say I'm sad,
Say that health and wealth have missed me,
Say I'm growing old, but add,
Jenny kissed me.
In his Autobiography Hunt wrote: "It is a pleasure to me to know that I was born in so sweet a village as Southgate. . . a scene of trees and meadows, of "greenery" and nestling cottages. . . It is a place lying out of the way of innovation, therefore it has the pure sweet air of antiquity about it."
Henry Crabb Robinson, living in Southgate in 1812, described the village thus:– "No distant prospect from the Green but there are fine trees admirably grouped, and neat happy homes scattered in the picturesque corners and lanes."
In its 1907 sales brochure for new homes in Palmers Green, the New London and County Building and Estate Co. referred to the proximity of "the picturesque and charming village of Southgate with its lovely mansions in their fine old gardens, village green and pond." (See newsletter 214, Summer 2019.) In 1928 the pond was filled in.
In 1881 an elected Local Board of Health was set up covering Southgate, Winchmore Hill and Palmers Green. These areas had previously been part of the Edmonton Local Board of Health. The first offices were at Ash Lodge, Southgate Green, but in 1893 new offices were built in Palmers Green. These were substantially extended in 1916 and 1940 becoming the Southgate Town Hall. Southgate became an urban district in 1894 and a borough in 1933. In 1965 Southgate was incorporated into the London Borough of Enfield along with the boroughs of Edmonton and Enfield.
Southgate Green became an conservation area in 1968. It has since been extended into the High Street, Waterfall Road and Cannon Hill. Neighbouring conservation areas are the Lakes Estate (see newsletter 214, Summer 2019), The Meadway Estate (see newsletter 196, Winter 2014) and Southgate Circus (See newsletter 209, Spring 2018). Southgate Green can be reached by buses 121, 298, 299 and W6.
For more information see: Heritage Walks in the London Borough of Enfield edited by Monica Smith and The Enfield Preservation Society 2007; Treasures of Enfield, Discovering the Buildings of a London Borough edited by Valerie Carter 2000; Southgate a glimpse into the past by Alan Dumayne 1998; A—Z of Enfield Pubs Part Two by Gary Boudier 2002; Southghate and Edmonton Past by Graham Dalling 1996; The Buildings of England London 4 North by Bridget Cherry and Nikolaus Pevsner 1998 and Middlesex by Michael Robbins 1953/2003. These publications may be consulted at Enfield Local Studies and Archive which also supplied the two black and white photographs used in this article.
Illustration 1. Essex House and Arnoside House, 4 and 5 The Green, are listed Grade II* and were built in 1720. This pair of three storey red/purple brick houses with basements have rusticated brick quions at the corners. Four stone steps with wrought iron handrails lead up to a pair of doors with moulded architraves above. There are fine Baroque gate piers topped with stone urns and original railings and gates. Once used as a school, the frame for the bell can still be seen on the roof. On either side are matching restored former coach houses and further to the right is the 18th century Grade II listed two storey Old House with dormer windows in its slated roof.
Illustration 2. Ellington Court, in the High Street, is an early (1937) work by Frederick Gibberd (1908–84). He went on to become the architect/planner for Harlow New Town and designed Heathrow's control tower, Regent's Park mosque and Liverpool's Roman Catholic cathedral. In 1960 Frederick Gibberd and Partners produced a comprehensive re-development plan for Edmonton Green which, with some alterations, was carried out between 1965 and 1974.
This brick faced block of flats has modernist features such as cantilevered concrete porches. At the rear are projecting concrete balconies overlooking the Walker cricket ground. Unfortunately, since this photograph was taken in 2004, the building has been altered with an additional floor added using different materials and in a different colour and style.
Illustration 3. Ash Lodge, 40 The Green, dates from the 18th century and has a fine Georgian fanlight over the entrance. From 1881 to 1893 it was used as the first offices of Southgate Local Board of Health. The adjoining cottage, 41 The Green, is also Georgian.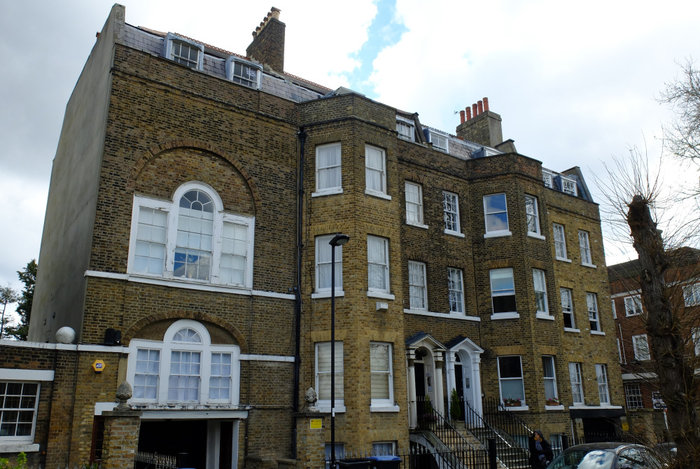 Illustration 4. Sanford and Norbury Houses, 38 and 39 The Green, listed Grade II, were built in 1775–6 for a local landowner Richard Goad. They are a pair of stock brick town houses, three storeys high with dormer windows in a slated mansard roof and semi-basements. Eight steps lead up to six-panel doors. The door cases have attached Egyptian columns. The projecting bays were added in the 19th century. Norbury House on the left has an additional two storey wing with Venetian windows. In the late 19th century Sanford House was the home of Charles Hugo famous for language courses and bi-lingual dictionaries. The houses are now divided into flats.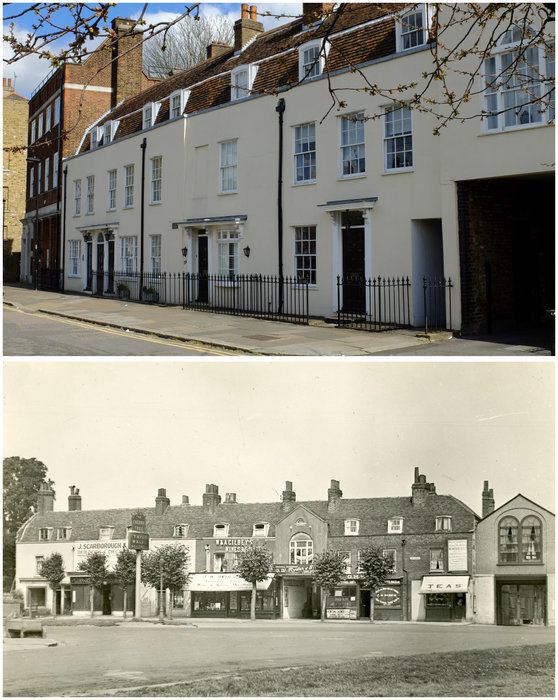 Illustrations 5 & 6. Thanks to a campaign by the Southgate Civic Trust, in 1981 the Grade II listed 1780 houses 23–32 The Green were extensively rebuilt and restored to the original designs by architect Michael Seacles, who was also responsible for the Paragon on Blackheath. Some are covered in painted stucco while in others the yellow stock brick fronts can still be seen. Many of the houses have later shop fronts inserted and these can be seen the photograph taken around 1930.
Illustrations 7 & 8. The oldest part of the Grade II listed Cherry Tree (now called Ye Olde Cherry Tree) may date back to to the 17th century. There was an inn on the site in 1624 when it was given by Valentine Poole to a charity, to benefit the poor of Barnet. The first landlord is recorded in 1716. The present brick front, with Victorian bay windows, conceals an earlier timber framed building. An early 18th century yellow stock brick house was later incorporated into the inn. Also owned by the Cherry Tree were the Assembly Rooms above the carriage entrance, which led through to stables. The Cherry Tree remained a coaching inn until the 19th century.
Among the many groups which met at the inn were the Loyal British Society 1800 to 1833 and the Loyal Adelaide Lodge of Manchester Unity of Oddfellows which held meetings at the Cherry Tree for over 100 years from 1842. It was also used by various hiking and cycling clubs, horse charabanc parties and day-trippers from London.
At the end of the 19th century there were public and private bars, a smoking room, a billiard room and a staff room. The 1905 photograph shows the Cherry Tree before a mock Tudor porch was erected in 1924 to support the front wall which was bowing outwards. Much of the interior had to be reconstructed after a fire in 1947. Further alterations and extensions were made in the following decades.
Illustration 9. At the bottom of Cannon Hill are three adjoining Grade II listed historic houses.
Nos 6 and 6A were originally known as Cannon Hall. The early 19th century yellow brick villa has a low pitched hipped slated roof and was extended in the mid 19th century. It has more recently been used as a social club by St Monica's Roman Catholic Church in Palmers Green.
No. 4 Cannon Hill was originally stables and a coach house for Cannon Hall. It is an early 19th century two storey timber framed weather boarded building with projecting single storey wings.
The Hermitage, illustrated above, at 2 Cannon Hill is a late 18th/early 19th century thatched cottage orné. It has three bays, barge boarded gables and dormer windows in the roof. The first floor windows and gothic doorway have drip moulds to deflect the rain. Since the photograph was taken in 2008, the roof has been re-thatched.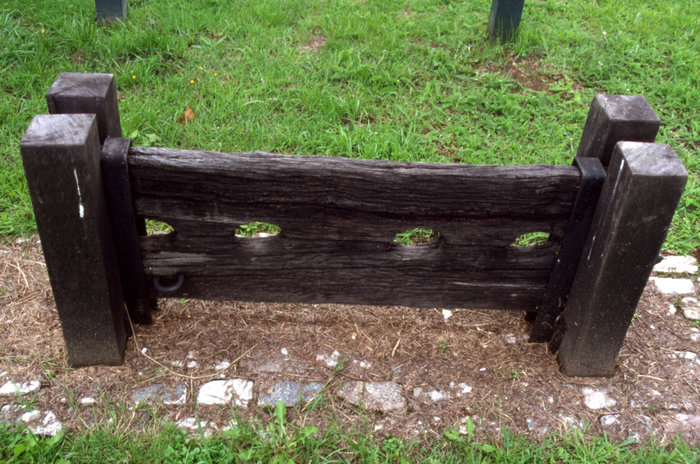 Illustration 10. Miscreants would be pelted with rotten fruit and vegetables and stones while they were locked in the stocks. These stocks, which are not the original ones on The Green, were restored in 2002.
Nearby is a trough provided by the Metropolitan Drinking Fountain and Cattle Trough Association. It is now planted with flowers, although the lower level still fills up with rain water, benefiting small animals.