This article by Stephen Gilburt was first published by The Enfield Society in two parts: newsletters 191 (Autumn 2013) and 192 (Winter 2013).
1558 to 1958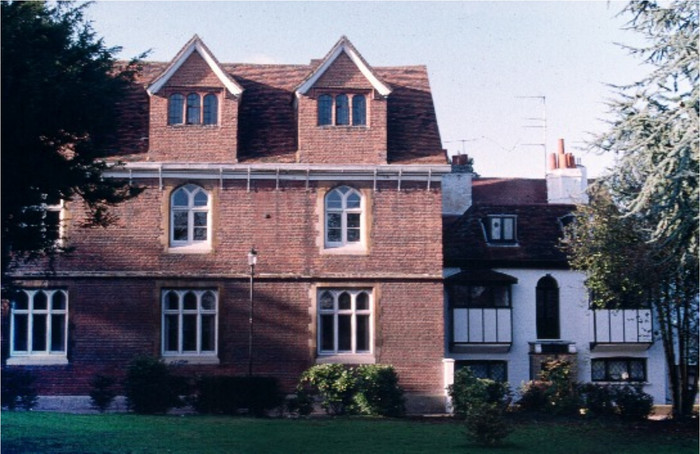 Illustration 1. Enfield Grammar School was founded in 1558 to teach, without charge, the children of the poor of Enfield to read and write Latin and English. It had its origins in the 1462 will of Agnes Myddleton, which left an estate at Poynetts in Essex to set up a chantry chapel in St Andrew's church. (See TES news no.189.) The chantry priest, who later also became a teacher, chanted prayers for the souls of the donor, her parents and her four husbands. Early in the 16th century the funds from the Poynetts estate were converted to support a school. In 1516 the parish acquired Prounces house, behind the King's Head, for the school master and in 1557 a school house is first mentioned. William Garrett's 1586 bequest of £50 helped the parish to build the present Grade II* listed three storey red brick school in the 1590s, at a total cost of over £400. Initially the upper floors were used for parish meetings.
Illustration 2. Between 1664 and 1676 the botanist and classical scholar, Dr Robert Uvedale was headmaster. He attracted more boarders and day pupils from a higher class than previously. Later Enfield Grammar became a parish school for the sons of farmers, tradesmen and the poor. In the mid 18th century the top floor was divided into 10 bedrooms for boarders. The first floor was also split up to provide a dining room and a study. In the school room on the ground floor there were 10 forms, 10 writing seats and 22 lead ink-horns. Rev. John Milne, headmaster from 1791 to 1831, claimed to teach reading, writing, English, mathematics and the classics, but discipline was harsh and many boys were injured by beatings. This view of about 1800 shows the school with Georgian windows inserted. The small three-storey master's house to the left was built in 1739.
Illustration 3. After a long period of decline, when much of the endowment was spent on law suits between the parish and masters, Enfield Grammar closed in 1872. The Poynetts estate was sold and £1000 was spent on renovating the school The Georgian windows were replaced with the present neo-Tudor ones and the upper floors were converted into classrooms. This 1880 photograph shows the restored school, with the late 14th century Prounces house on the far left.