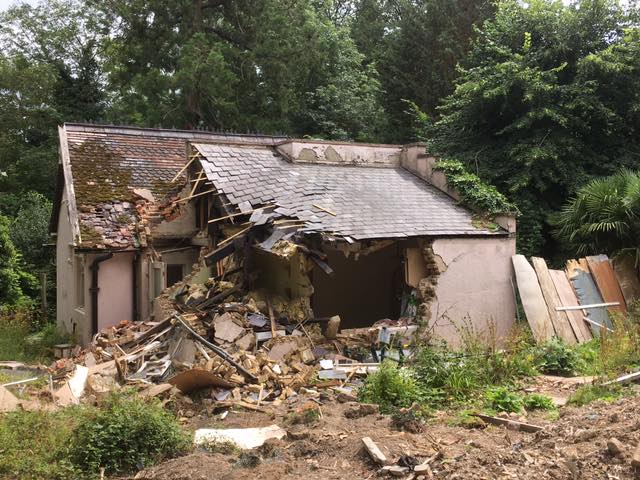 The Enfield Society is dismayed to learn of the damage / partial demolition of North Lodge, a Grade II listed cottage in Whitewebbs Road. The building has been in a worryingly derelict condition for some time and we are in touch with Enfield Council about its future.
Serious recent damage seems to be concentrated at the rear of the property, mainly to the early 20th century extension, but the entire building is in poor condition overall following several years of neglect.
A large amount of soil, heavily polluted with plastics, appears to have been brought onto site, with clear evidence of newly heightened fences to conceal activity behind.
The property is now subject to a "STOP" notice issued by Enfield Council earlier this month and we understand that an Urgent Works Notice has also been issued to ensure that the remaining part of the building is given structural support it needs, as well as protection from the weather. Enfield Council will undertake these works in default if the owner does not comply with the notice.
[NB. Please do not confuse North Lodge, at the main entrance to Whitewebbs Park in Whitewebbs Lane with South Lodge, similar in appearance but located near to Whitewebbs Golf Clubhouse. The latter is a much loved and well looked after family home]