This article by Stephen Gilburt was first published by the Enfield Society in newsletter 184, Winter 2011.
Following improvements to rail services and the extension of the Piccadilly underground line north from Finsbury Park to Cockfosters between 1930 and 1933, many comfortable terraced, semi-detached and detached houses were built for sale in the London suburbs. One developer advertised "A Home, a House, a Little Palace in a convenient healthy district, purchasable by anyone with a small capital and regular income". Prices ranged from £500 to £2,500, those at the lower end being affordable to someone with an annual income of £200. However "no cheap or nasty project [was] allowed".
Styles varied from modern and neo-Georgian to "Tudorbethan", with half-timbered features; examples of the latter can be seen in the Meadway Estate conservation area in Southgate (see TES News no. 172, page 1).
People moving into their new homes were not short of advice. One 1930s manual recommended that "furniture should be well made, graceful and strong. Overcrowding is bad in taste and too many ornaments or pictures provide a distracting and muddled effect". The new residents were proud of their facilities and one wrote "We Southgate people in our new houses are a pretty clean and gentlemanly lot. We don't boast about our baths and bathrooms, but the fact remains we take our ablutions seriously".
In 2000 a semi-detached house was converted to its possible appearance in the Second World War for Channel 4 television and a family were filmed living there under wartime conditions. A replica of the house was constructed in the Imperial War Museum in Lambeth and later incorporated into "The Children's War and the 1940s House". This free exhibition, which will bring back many memories, closes on 3rd January 2012.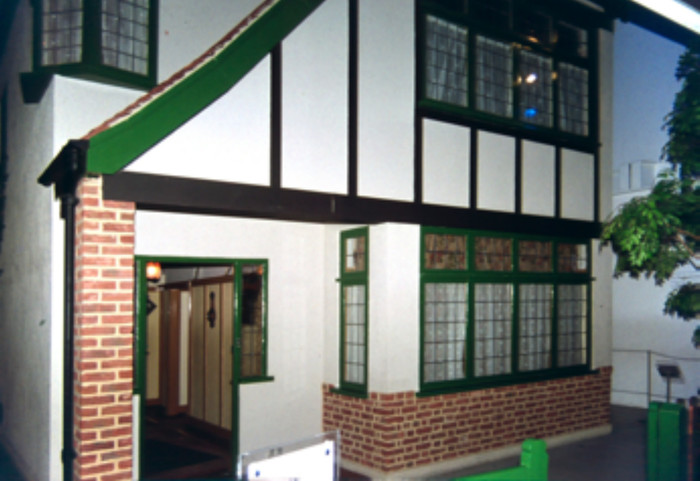 Illustration 1. 17 Braemar Gardens, West Wickham, Kent, with two reception rooms, kitchenette, three bedrooms and a separate bathroom and toilet, was on sale for £875 in 1932.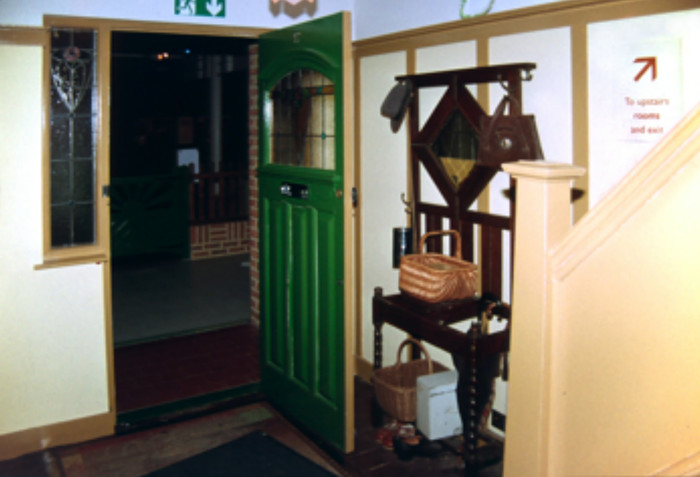 Illustration 2. The front door had stained glass panels. The hallstand was used for hats, coats and shoes.
Illustration 3. The living or sitting room, where visitors would be received, was the successor to the Victorian parlour and the Georgian drawing room. Furniture included a settee, armchairs, a footstool (made from six golden syrup tins covered with cut moquette), a glass-fronted cabinet, a desk and a side table. There was also a sewing machine, a Bakelite wireless and a wind-up gramophone, but no television or computer.
Illustration 4. Houses without gardens might have a Morrison air-raid shelter – a steel mesh cage with a solid top which could also serve as a dining table when the side panels were removed. This dining room also had a sideboard, bookcase and trolley, and was heated by an open coal fire in the tiled fireplace. Tape was stuck over the windows to hold the glass in place should a bomb fall nearby and the curtains were drawn across at night to help maintain the blackout.
Illustration 5. The kitchenette had a ceramic sink with a wooden draining board, a small gas stove, a washing tub with an electric element to heat water, a scrubbing board, dolly stick and mangle, a coke-burning boiler to provide hot water for the house, a kitchen cabinet and an ironing board. The house was cleaned with the aid of a mop, brushes, dusters and a carpet sweeper. There was, however, no washing machine, dryer, dishwasher, refrigerator, microwave oven or vacuum cleaner in this house.
Illustration 6. Due in part to the influence of the Hays Production Code on 1930s American films, separate beds for married couples became fashionable. The beds had silk-covered eiderdowns filled with feathers and down from the eider duck. Other furniture included a wardrobe and dressing table. Heating was provided by a built-in gas fire in the tiled fireplace.
Illustration 7. Although there were bathrooms in many late Victorian and Edwardian houses, for some people moving to a house like this it would have been the first time they had their own bathroom, having previously used a portable tin bath or the local public slipper baths. In wartime Britain bath water was reused and a maximum depth of five inches (which could be marked in paint) was suggested.
Illustration 8. During the war when clothes and food were rationed, people were encouraged to "Dig for Victory" and gardens provided valuable home-grown fruit and vegetables. Some people kept chickens, rabbits or even a pig. ("You can use every bit of a pig, except its squeal" was a popular saying.) The Anderson air-raid shelter cost £7, but the corrugated steel sheets needed were provided free to families earning less than £250 a year. Shelters were also used to grow rhubarb and mushrooms, for which the dark, damp conditions were suitable.