This article by Stephen Gilburt was first published by the Enfield Society in newsletter 222, Summer 2021.
Following the extension of the Piccadilly Underground Line to Cockfosters in 1933, with intermediate stations at Arnos Grove, Southgate and Enfield West, which was renamed Oakwood in 1946, (see Newsletter 209 Spring 2018) there was a substantial development of housing in the area (see Newsletter 212 Winter 2018).
In order to meet the needs of the growing population of Southgate, which was made a borough in 1933, Middlesex County Council erected a number of modernist style buildings; these are now mostly listed Grade II for their architectural value. They were designed by W. T. Curtis, who was county architect from 1930 to 1946, and his education architect H. W. Burchett. They feature plain brick surfaces, concrete, metal framed windows and flat cantilevered roofs.
De Bohun elementary school, for children up to age 14, was built in Green Road in what is now Oakwood, in 1936. Next to the school was the De Bohun Library and Clinic of 1939, which is now Salcombe Preparatory School. Middlesex County Council (MCC) built libraries in Southgate because the borough had not adopted the Libraries Act, unlike Edmonton and Enfield. The De Bohun School and Library were named after the De Bohun family who owned land in the area and were Lords of the Manor in the 12th century. Broomfield School in Wilmer Way, which is not listed, was built in 1938 for 800 senior elementary (secondary) pupils, but has since been considerably extended. MCC also built Arnos Swimming Pool, Library and Juvenile Employment Bureau together with the adjacent Clinic in Bowes Road in 1939. Nearby is Charles Holden's Grade II* listed modernist Arnos Grove Underground Station.
For more information see: Treasures of Enfield, Discovering the Buildings of a London Borough edited by Valerie Carter 2000; The Buildings of England London 4: North by Bridget Cherry and Niklaus Pevsner 1998. These publications may be consulted at Enfield Local Studies Library and Archives.
Illustration 1. De Bohun Elementary School in Green Road was built in 1936.
Illustration 2. The former De Bohun Library and Clinic built next to the school in 1939 is now Salcombe Preparatory School. It is faced in red brick and has a tall stair tower.
Illustration 3. Arnos Pool in Bowes Road was built in 1939 of brick and concrete with an oval entrance foyer and circular roof light.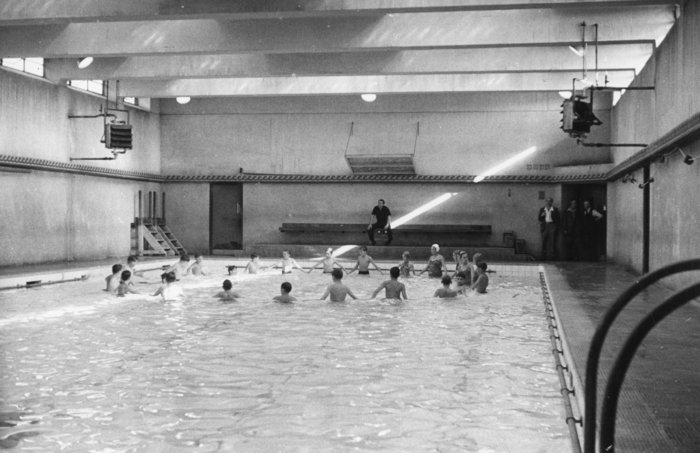 Illustration 4. Internal view of Arnos Swimming Pool. [Picture courtesy of Enfield Local Studies and Archive.]
Illustration 5. Part of the same complex of buildings as the pool is Arnos Grove Library which is on the first floor. It is reached by a curved staircase lit by an oriel window. There was originally a Juvenile Employment Bureau on the ground floor.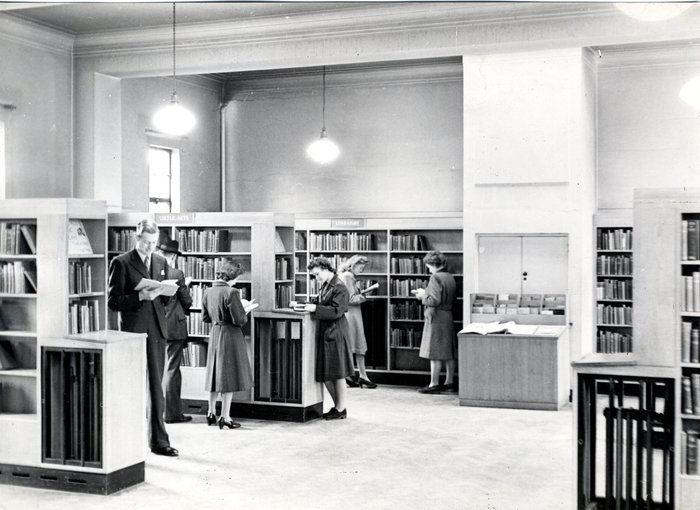 Illustration 6. Arnos Grove Library around 1950. The covered radiators are an unusual feature. [Picture courtesy of Enfield Local Studies and Archive.]