Two new murals have been unveiled at Enfield Chase station which celebrate lost local heritage.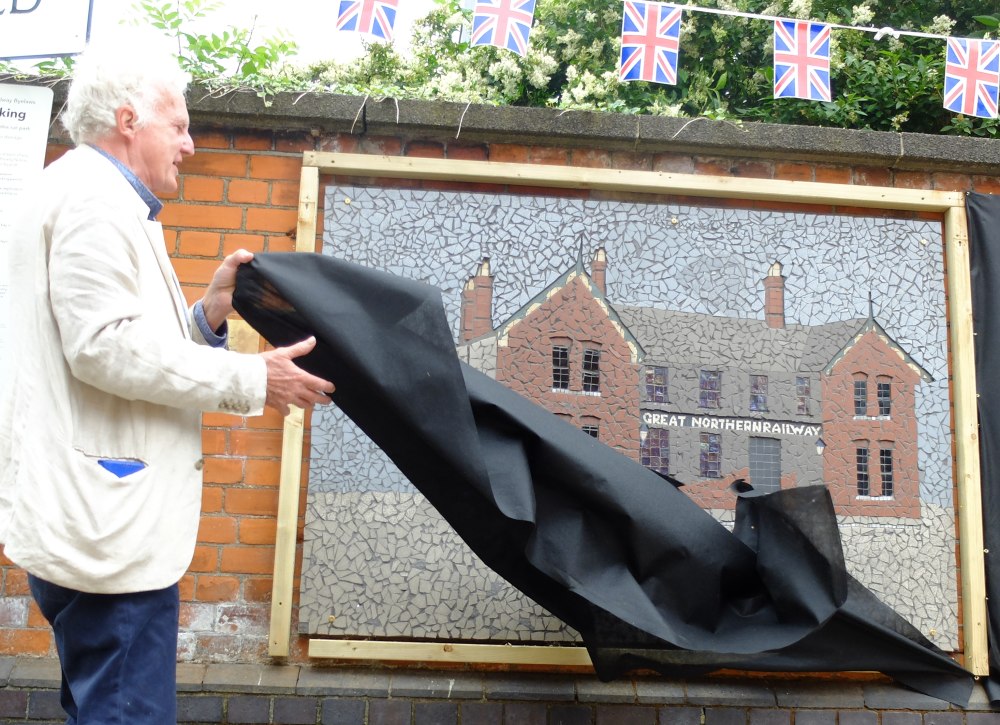 Author, broadcaster and railway historian Christian Wolmar unveiled a picture of the former Great Northern Railway Enfield terminus which closed to passengers in 1910 when the line from Wood Green was extended to Cuffley and later to Stevanage. The building was finally demolished in 1984 when the Gladbeck Way housing development was constructed.
Dr Michael Robinson-Taylor and his sister Pauline unveiled a picture of the Windmill which until 1904 stood at to top of Windmill Hill opposite to St Mary Magdalene Church. Michael and Pauline are direct descendants of the Robinson family who last owned and operated the mill.
The murals were made by Debbie Dean from local Community Group Art Start and took 1500 hours to make. Each one contains over 3,000 individual pieces of tile. They join a third mural, also by Debbie Dean, of the Bycullah Athenaeum which stood on Windmill Hill about half way up where there used to be a car garage.
The Enfield Society commissioned the murals as part of the 150th Anniversary celebrating the construction of the line from Wood Green to Enfield Chase, which opened on 1st April 1871. The project was funded by Govia Thameslink Railway and we were pleased when they agreed to our suggestion. The Enfield Society has volunteers, who maintain colourful planting in containers on the platforms at Enfield Chase. The murals add to the sense of arrival at the station, whilst celebrating Enfields' local heritage.
Earlier the same day the Southgate District Civic Voice arranged for a plaque to be unveiled at Winchmore Hill station by Joan Duparcq and David Paul, also to celebrate the 150th anniversary of the opening of the original Great Northern branch to Enfield.