This article by Stephen Gilburt was published by the Enfield Society in newsletter 195, Autumn 2014.
The Anglo-Saxon manor of Delmetone or Adelmetone (Eadhelm's Farm) recorded in the Domesday Book in 1086, was given by William the Conqueror to Geoffrey de Mandeville. Fragments of a 12th century church have been preserved in the present, mainly 15th century, parish church. In the 16th century, Church Street was known as Abbot's Lane. Between about 1680 and 1870 Edmonton was well known for its fair.
Before the branch railway line from Angel Road via Edmonton Green to Enfield Town opened in 1849, there was an hourly coach service from Edmonton to the City of London. The present Great Eastern Railway station, on a more direct route to London, dates from 1872. The horse-drawn tram arrived in Edmonton in 1881 and the route between Tottenham and Tramway Avenue, Eastern Enfield, was electrified in 1905.
Despite the pressure of later developments in this 19th century working-class suburb, several older buildings have survived in this busy street and are listed either individually or for their group value. They are included in the Church Street, Edmonton, conservation area, which was established in 1970. Both All Saints Church and the Charity School Hall were placed on English Heritage's "Buildings at risk" register and the Enfield Society contributed to their restoration appeals (see TES News no. 182, pages 1-2).
For more information on the history of the area see David Pam's booklet Edmonton, ancient village to working class suburb, published by the Edmonton Hundred Historical Society, Graham Dalling's Southgate and Edmonton past and Michael Robbins's Middlesex. More information on the historic buildings may be found in the well-illustrated book Treasures of Enfield and the guide to Heritage walks in the London Borough of Enfield, which are both available from the Enfield Society. All these publications may be consulted at the Enfield Local Studies Centre and Archive in the Dugdale Centre.
Buses W8 and W6 pass along Church Street, which may also be reached from Edmonton Green railway and bus stations. 2014 marks the 250th anniversary of Mary Lamb's birth in 1764 and an arts festival was held at All Saints Church from 31st May to 7th June to celebrate the lives and legacies of Charles and Mary Lamb.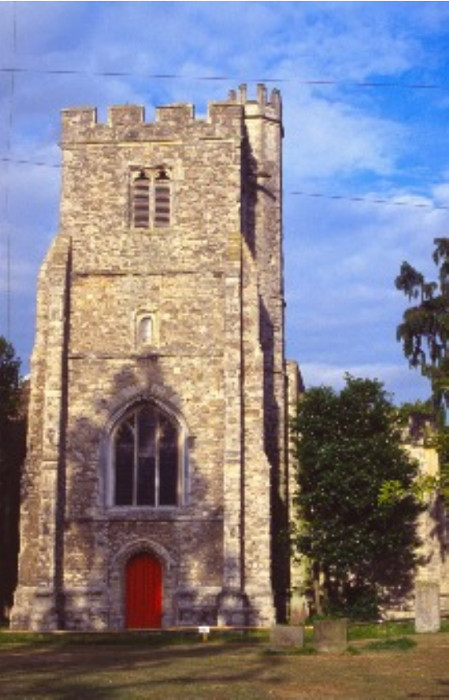 Illustration 1:
All Saints church is mainly 15th century, but the fine ragstone rubble tower has the only surviving medieval windows. (See
TES News no. 178
, p. 4-5).
Illustrations 2, 3:
Left: this carved head is a fragment of the original 12th century church. It was discovered when the south aisle was built in 1889 and, right: paintings of Moses and Aaron may be seen on the west wall of the church.
Illustration 4:
The former Charles Lamb Institute of 1908 is faced with stone in the style of a Tudor college. It was originally the parish hall for All Saints Church.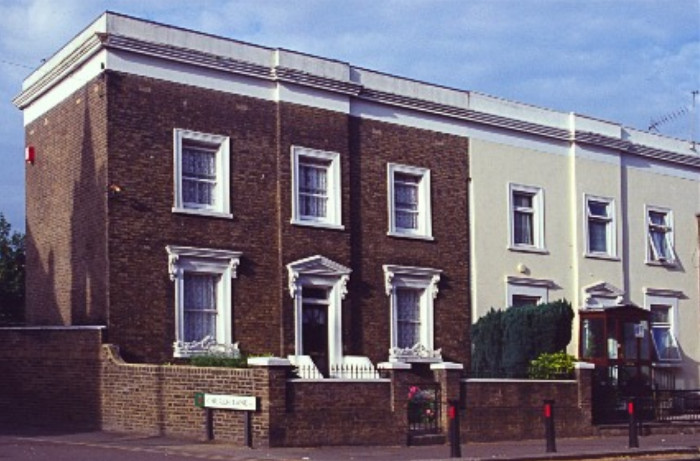 Illustration 5:
45 and 43 Church Street were built in the 1840s. No. 45 on the left has retained its original yellow stock brick facade, window surrounds, ornamental cast-iron work and pediment over the central door, although the door itself is a modern replacement. No. 43 has a later white stucco facade, modern windows and porch added in front of the original doorway.
Illustration 6:
21 and 19 Church Street are a pair of fine early 19th century Georgian three storey yellow stock brick houses, with attics under a slate mansard roof and basements. The sash windows have retained their glazing bars. In the later 19th century a decorative cast iron porch was added in front of the original doorway to no. 21.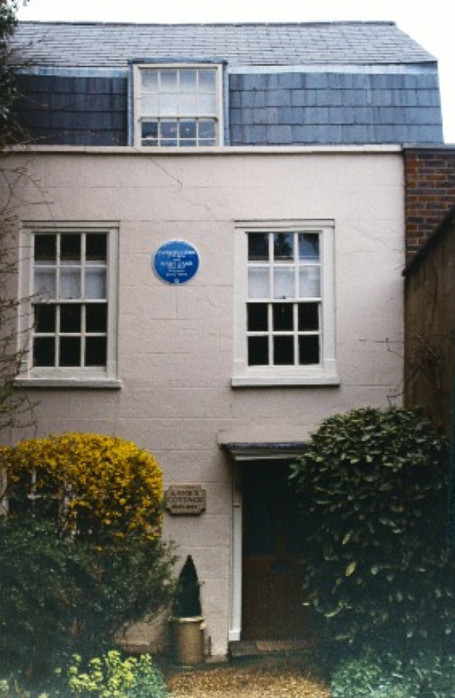 Illustration 7:
The late 17th/early 18th century timber-framed Bay Cottage (now Lamb's Cottage) was altered later in the 18th century when a stucco facade was added and the interior was panelled. Charles Lamb (1775-1834) is famous for his Essays of Elia and Tales from Shakespeare, the latter written for young readers with his sister Mary (1764-1847). After living in Chase Side, Enfield, from 1827 to 1833, they moved to Bay Cottage, where Mary (who had killed her mother in 1796 in a fit of insanity) became the sole patient in Mr and Mrs Walden's private mental home. Charles and Mary Lamb's tombstone is in All Saints churchyard, (See
TES News, no. 182
, p. 4-5)
Illustration 8: The poet John Keats (1795-1821) was a pupil at John Clarke's boarding school (where Enfield Town station is now) between 1803 and 1810. Living in the home of his grandmother Mrs Jennings in Church Street, Edmonton, he was apprenticed to a local doctor, Thomas Hammond, from 1810 to 1813. Dr Hammond's house in Church Street, shown here, was demolished in the 1930s.
Illustration 9:
Two of these early 19th century cottages with stucco facades were converted into shops later in the 19th century. The first floor rooms have retained their sash windows and glazing bars. To the right is an 18th century red brick cottage, which was formerly the Charity School mistress's house, and the Charity School for girls.
Illustration 10, 11:
The Charity School, established in 1778, was modelled on the Blue Coat School in Tottenham. The single storey brick structure has tall sash windows on either side of the central round arched doorway. In the niche above the doorway is a pupil holding an open book. The inscription on the panel below reads "A Structure of Hope, Founded in Faith and Based on Charity 1784".
Illustration 12: Each girl was provided with a tippet (cape), a shift, an apron, stockings, shoes and pattens (to keep her shoes out of the mud) every six months; a hat, a gown and a petticoat every year and a pair of stays (laced corset) every two years. When the girls could read they were given a prayer book and they were also taught writing, needlework (useful for a servant) and singing. On Sundays they formed the choir at All Saints Church. School places were funded by subscribers who gave a guinea (£1.05) a year to nominate a child. In the picture above, one of the girls is holding a slate with the words "Endowed Edmonton Sep. 2 1889". When the school closed in 1904 the girls were transferred to All Saints National School.