This article by Stephen Gilburt was published in the The Enfield Society Spring 2018 newsletter.
In 1906 the Piccadilly underground line was constructed to terminate at Finsbury Park. After the First World War complaints about poor public transport facilities further north led the Minister of Transport to set up a Traffic Inquiry in 1925. This recommended an extension to the line. Following government legislation in 1929, which enabled loan capital to be raised, work on a 7.5 mile extension began in 1930. It reached Arnos Grove, where a depot was built, in 1932 and Southgate, Enfield West and Cockfosters in 1933. The line was constructed in twin tunnels to just south of Arnos Grove and then on the surface, in cuttings, on embankments and brick viaducts with a short tunnel section at Southgate. The engineer for the viaducts was Sir Harley H. Dalrymple-Hay.
The driving force behind the extension was Frank Pick (1878-1941) who was managing director of the Underground Group and from 1933 chief executive of the London Passenger Transport Board. Pick supported modern design in architecture, rolling stock, upholstery, light fittings and litter bins. Edward Johnson designed a new typeface for signs, posters were commissioned from leading graphic artists such as E. McKnight Kauffer and in 1933 Harry Beck's diagrammatic underground map was introduced.
The architect Charles Holden (1875-1960) was commissioned to build a series of striking modern stations, which he called "brick boxes with concrete lids". His designs were influenced by buildings he and Frank Pick had seen on a visit to Scandinavia in 1930. Several of the stations have been restored to their original appearance in recent years. Holden also designed the London Transport headquarters at Broadway, the Piccadilly station circular concourse and London University Senate House in Bloomsbury.
Illustrations 1, 2:
Grade II* Arnos Grove station has a brick drum with metal framed windows and a reinforced concrete roof which is supported by a 16-sided central pillar. The original ticket office now has display panels on Charles Holden and London Underground in the inter-war period.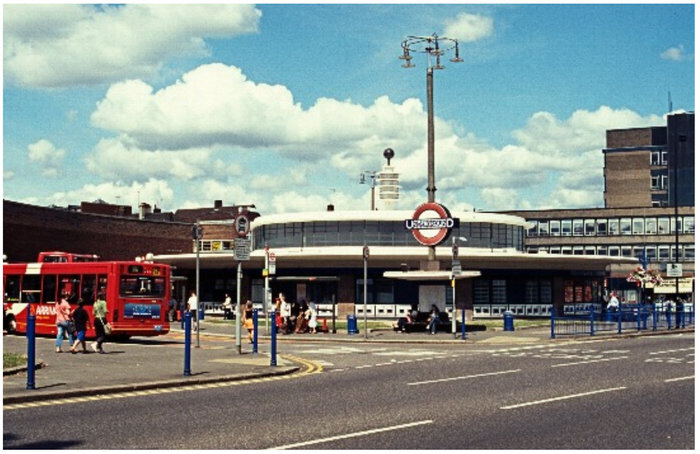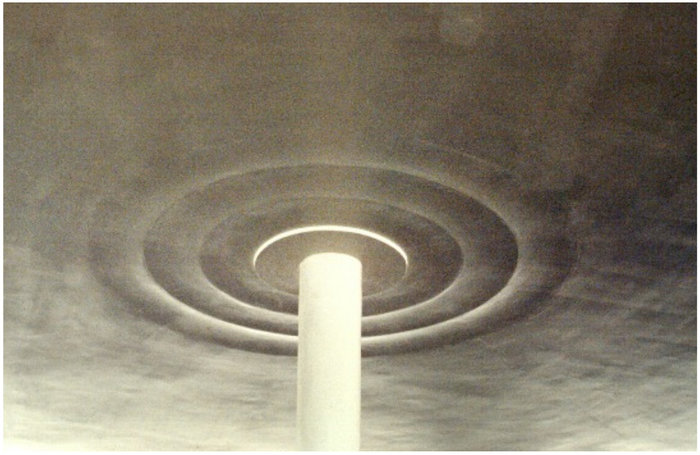 Illustrations 3, 4:
Grade II* Southgate station is constructed of stock brick with tiled internal wall surfaces. The reinforced concrete tiered flat roof has projecting eaves and the central lantern has a bronze finial illuminated at night. The original ticket office surrounds the central column supporting the roof. Shops and staff quarters are around the edge of the circular ticket hall. The escalators still have their original bronze uplighters. The station, station sign and adjacent listed Station Parade of shops, also designed by Charles Holden, now form the Southgate Circus conservation area (see TES News no.
172
).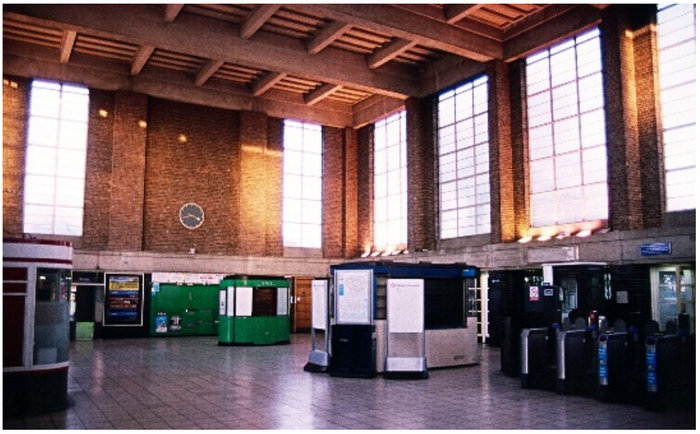 Illustrations 5, 6:
Grade II Enfield West station, renamed Oakwood in 1946, was designed by Charles Holden with C. H. James. It has a rectangular stock brick ticket hall with large metal-framed vertical windows. The station sign with a pedestrian shelter is also listed.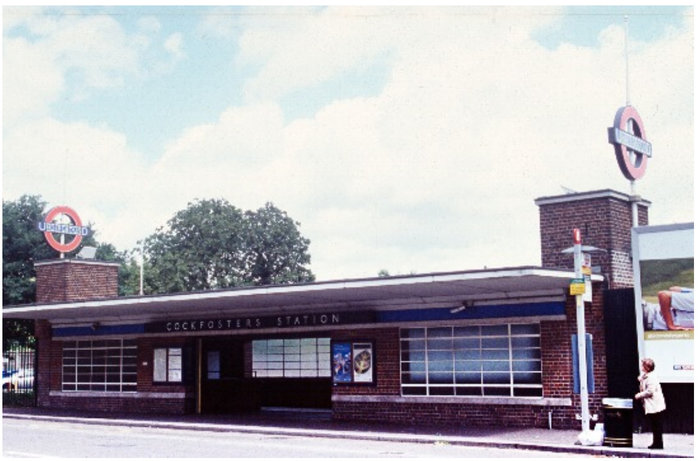 Illustrations 7, 8:
Grade II Cockfosters station has a long low entrance with a cantilevered reinforced concrete roof. The reinforced concrete platform canopy slopes inwards and has clerestory windows.